April 23, 2018 - 1:06pm
Photo: Ribbon cutting for Eden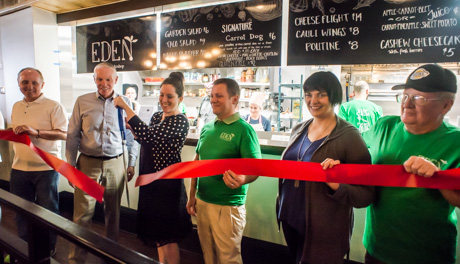 Eden, the new vegan food booth inside the Eli Fish Brewing Company restaurant at 111 E. Main St., Batavia, held a grand opening celebration and ribbon cutting Sunday afternoon.
Eden is one of two new food establishments opening inside Eli Fish, as part of an initiative sponsored by the Batavia Development Corp. called FreshLAB. 
Owner Judy Hysek cuts with the ribbon Jim Turcer, left, the first paid customer, Chamber of Commerce President Tom Turnbull, Chris Hysek, Judy's husband, Tracy Burgio, representing FreshLAB, and David Balonek, Judy's father.