May 3, 2018 - 9:30pm
Photo: Wound care unit wins second award for patient treatment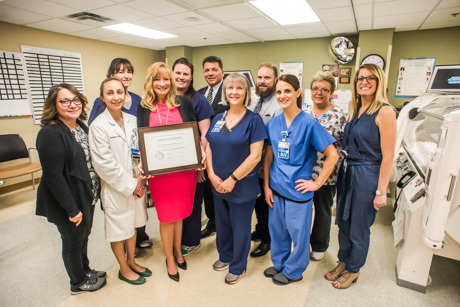 The second consecutive year, the team in the Wound Care and Hyperbaric Medicine Center at UMMC received the Robert A. Warriner III, M.D., Center of Excellence Award.
UMMC achieved patient satisfaction rates of higher than 92 percent and a healing rate of at least 91 percent in less than 30 median days to heal. The award was presented by Healogics, the nation's largest provider of advanced wound care services.
Pictured are: Emily Casaceli, Dr. Samar Alami, Lisa Albanese, Monika Ghise, Alicia Ryan and Holly Siverling in the first row. In the back, Alecia Grandy, Teresa Conti, Dr. Joseph Canzoneri, Dr. John Wickett and Sharon Grimes.