April 28, 2018 - 10:07pm
Photos: 'Buzzin' Bistro' at Byron-Bergen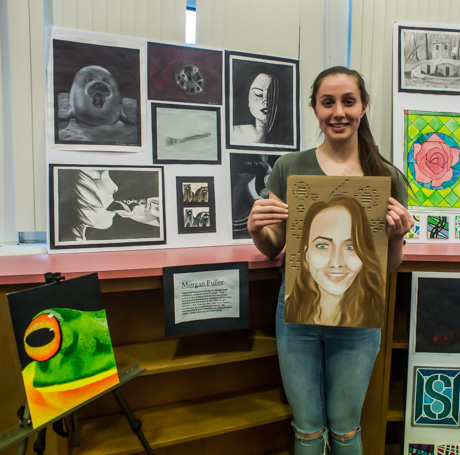 Morgan Fuller, a senior at Byron-Bergen High School, was among the dozens of students at the school last night who showcased their artistic and musical talent in the school's annual "Buzzin Bistro," a celebration of the arts.
Besides the art show, vocal and music students performed in the cafeteria to a packed house, including songs such as the B-52s' "Love Shack" and the Guys and Dolls/Frank Sinatra hit "Luck Be A Lady."
As for Fuller, as much as she loves art, especially drawing either with graphite or charcoal on black paper, she is thinking of pursuing a career in photojournalism.
"I still like drawing but I don't know if I'll do it that much professionally because, you know, moneywise, and stuff like that, but I'll always do it as a hobby," she said.
She doesn't go much for abstract art. She likes realism but she likes pictures that tell a story and can get a reaction from people rather than just a depiction of a realistic subject.
"I like pictures that are very awkward," She said. "The fish one is my favorite because it's so awkward and it makes people feel uncomfortable. I also like the mysterious look of black and white and graphite."