July 18, 2018 - 4:09pm
Photos: Draft horse competition at the Genesee County Fair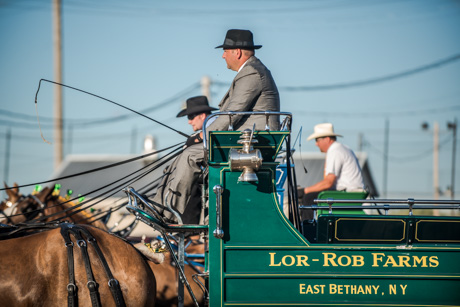 At the fair yesterday, we took in a couple of events at the Draft Horse Show.
Mark Barre (top photo and fourth photo), of Lor-Rob Dairy in East Bethany, won in the Unicorn Class and Doug Laurence, of Arkport, won the Farm Team Class (pictured below with his ribbon stuck in his hat and in the third photo).
Yesterday's classes also included Six-Hitch, Farm Single, Open Cart, Farm Obstacle, and Feed Team.
Steven Beardsley, one of the organizers of the event, said the teams are judged on how well they work as a unit, the horse animation (for example, how well and high their pick up their legs on a trot, their headsets (straight and high), and the uniformity and cleanliness of the whole hitch. Some classes have slightly different criteria, such as the Farm Team, where horses must also demonstrate their ability to perform commands.
For the fair schedule, click here.