October 5, 2015 - 1:25pm
Photos: FFA mobile maple exhibit at Alexander Elementary School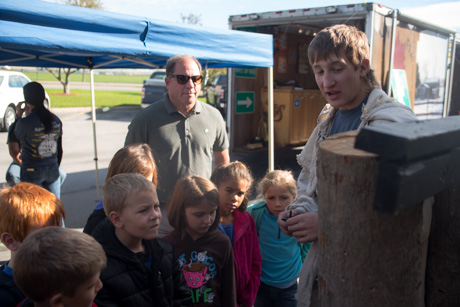 Students with the Agri-Business Academy from the Batavia CTE assisted in a demonstration with the FFA Mobile Maple Syrup Exhibit at Alexander Elementary Schoool this morning.
About the exhibit:
The New York FFA Mobile Maple Exhibit is an interactive display depicting all facets of the maple industry. Housed in a 28-foot trailer, visitors are offered a firsthand look at: how maple syrup was discovered; how maple sap is collected from maple trees; and how the liquid sap is then processed into pure, sweet maple syrup. The presentation concludes with a sampling of pure maple syrup and/or other maple products.

The presentation is broken into five segments, with the first being a whole-group depiction of the discovery of maple syrup. Visitors are asked to imagine a time when only Native Americans inhabited our lands and how one day the sweet, clear maple liquid was discovered coming from a maple tree. Next, participants learn about tapping a tree, whittling an old-fashioned maple spout, and using a modern tubing system to collect the maple sap.

In these segments, students may have a chance to use a bit and brace to "tap" their own maple tree and install a metal maple spout. After tapping the maple tree, participants help "collect" the sap from metal buckets. In the third portion, students become a mini-forest of maple trees and learn how gravity helps collect the maple sap using a modern plastic tubing system.

As groups enter the trailer, they view an actual scene from our school's woodlot and imagine a winter's day in February. Here, we demonstrate how the maple sap is processed into fresh maple syrup by viewing an actual mini maple-syrup evaporator. Learn how the maple sap is transformed from a clear liquid into a sweet, golden syrup.

Our explanations include how water is removed from the sap, how the finished product is graded, filtered and packaged, and how maple syrup is used as a food and natural sweetener. Finally, sample the sweet results of hours of work with a tasting of pure maple syrup or other maple products. 
Above, Assemblyman Steve Hawley takes in the demonstration. Sen. Mike Ranzenhofer had visited the exhibit earlier.