November 18, 2017 - 1:24pm
Photos: Wonderland of Trees gala at Holland Land Office Museum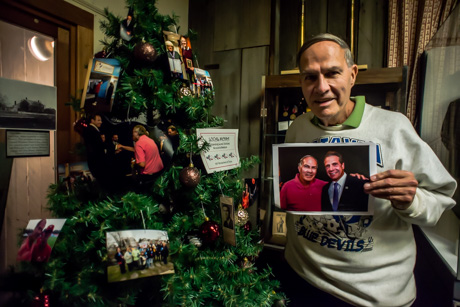 The theme of one Christmas tree on display at the Holland Land Office Museum Wonderland of Trees is decorated with pictures of Jim Owen, who is frequently in local media pictures.
Above, he poses with an autographed picture he received today from the office of Gov. Andrew Cuomo. The picture was taken while Cuomo was in town to announce Batavia's $10 million award in the Downtown Revitalization Initiative contest.
Owen was among the guests at HLOM last night for the annual Wonderland of Trees gala, which included a performance by a bell choir and an ugly Christmas sweater contest.
The winners of the contest below: Laura Banister, Kris Banister, Robin Ettinger and Ellen Bachorski.