May 17, 2019 - 11:53pm
Rep. Chris Collins says that if he runs he will beat any primary or general election challenger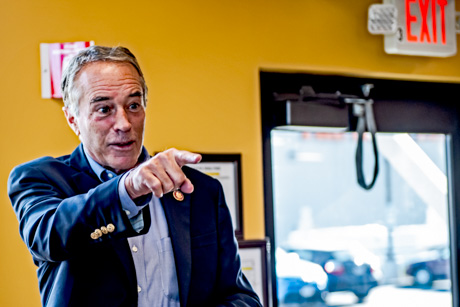 It doesn't matter who runs against him, if Rep. Chris Collins is a candidate in the NY-27 race in 2020, he will win, he said today following a ribbon cutting at Fresenius Kidney Care on Veterans Memorial Drive.
He will win in a primary. He will win in a general election.
He will win, he said, because he has more money. He will win because the folks of the 27th District will believe he's done a good job for them. He will win because he supports President Donald Trump.
"My accomplishments and my effectiveness speak for themselves," Collins said. "And if somebody wants to pretend otherwise, he'll have to better explain that."
Collins is unperturbed by the close call he suffered in 2018 beating challenger Nate McMurray by less than 2,000 votes, nor is he ruffled about his criminal indictment on alleged insider trading charges, nor an ongoing Congressional ethics investigation. 
"If I do decide to run, I'm confident I will win a primary if there is a primary," Collins said. "I'm also confident in a presidential year with my past support of President Trump, which is well known, with my seven, then eight, years of service in the community, I'm confident I would be reelected.
"While the last election was closer than I might have wanted it to be, that was a terrible year for Republicans. It was not a presidential year and I had an opponent who did not fully disclose where he stood on the issues. Next year, any Democrat that's running is going to have to run with the Democrat platform and the Democrat platform will be socialism replacing a free market."
Today, news reports said that state Senator Chris Jacobs plans to run a primary campaign against Collins if he decides to run and Sen. Rob Ortt told The Batavian in an exclusive interview that if he runs, he will also mount a primary challenge to Collins if Collins runs.
Collins said today that he remains undecided on whether to seek reelection.
"I have not made up my mind," Collins said. "I've said it would be later this year when my legal situation is better known, so I'm not saying yes and I'm not saying no. We'll make that decision later this year."
On potential opponents, Collins concentrated his fire on the one seemingly for-certain candidate, Chris Jacobs.
"If there's anyone who doesn't fit the profile it would be Chris Jacobs," Collins said. "You know, he is, I think, the second most liberal Republican in the state Senate. He's a Never Trumper, he is pro-abortion, and I would say that his resume does not suit New York 27."
Besides Ortt, Assemblyman Steve Hawley and Iraq War veteran David Bellavia both told The Batavian today that they are considering runs for the NY-27.
Collins said he isn't afraid of a primary fight, and the more the merrier.
"If you're gonna be in a primary you want it to be 10 people if you're the incumbent," Collins said. "So again, that's not going to make my decision for me. I'm confident I would win a primary if I decide to run and they decide to run against me in a primary, much like happened in 2012. I have confidence that my résumé, of what I've accomplished for this district."
In Jacobs' campaign announcement -- reportedly, since he didn't include all media in the NY-27 (apparently, Genesee County doesn't matter) -- Jacobs said Collins has been ineffective. Collins, of course, disagrees.
"Interesting that he brought that up the same day that Jane Corwin was confirmed as the new chairperson of the International Joint Water Commission," Collins said.
Collins also took credit for the appointments from Michigan and Nevada, the Army Corps of Engineers' approval of a project at Athol Springs, the appointment of a new U.S. Marshall, and he also mentioned his new legislation to help dairy farmers with immigration labor.
"That's all within the past week," Collins said.
In GOP circles, there is some speculation that Collins won't get the GOP endorsement in 2020 even if he decides to run. Again, Collins isn't worried.
"I would hope to get it," Collins said. "But if you recall in 2012 I didn't and I won the primary pretty handily."
Collins also suggested he will outspend any potential opponent. His latest fundraising reports have shown pretty dismal reports, however. He said that's by design. He didn't directly address whether he would self-fund his campaign, but he suggested he will do better at fundraising from this point forward.
"I have not attempted to raise funds the last four months," Collins said. "I know coming in, off of all the bad publicity that I faced, the Buffalo News and otherwise, we decided we'd sit tight for four months and see how things kind of played themselves out and it's been a very positive reaction in Washington, so we are now going to start doing fundraising."
In the last election, he barely beat challenger Nate McMurray. He is facing legal and ethics proceedings in federal court. Some Republicans think he should step aside to protect the district. The Collins retort: He barely beat McMurray because McMurray wasn't honest about who he really is. 
Collins suggested that McMurray is really a closet socialist because he's a Democrat.  
We pointed out the lengthy profile published by The Batavian on May 17, 2018:
Profile: Nate McMurray, Democratic capitalist, bucking the trend of his party
"He doesn't tell the truth," Collins said. "He can say anything he wants. Think back to Kathy Hochul and everything she stood for until she became lieutenant governor and then the true Kathy Hochul showed up."
The Democrats, he said, lie and distort about who they really are.
"You know they pander they lie they distort," Collins said. "But ultimately people realize I'm a conservative Republican. I am pro-life. I've served or eight years. With Trump, I'm the first member to support Trump. I was at the White House two days ago.
"I'm as effective as I've ever been or more so if you look at what we've accomplished the last week. So I'll run on my record and challenge anyone else to at least be honest with the public on where they stand."
See also: Chris Collins promises to speak to The Batavian if he runs for reelection
If Collins was a decent person he would step aside. His pending ethics violation investigation and trial has damaged him in his role as a Representative [ie: he no longer serves on any committees in the Congress]. Thus he is not representing the 27th District as well as it should be. How he got re-elected is amazing to me... but I said it many times "the people get the government they deserve". Time to step aside Mr Collins.