January 31, 2017 - 11:34am
Seed funding in place for Tencar to move forward with startup venture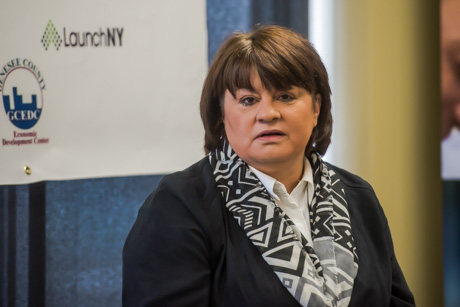 The GLOW region isn't exactly a hotbed of venture capital activity, so any founder might find it hard to get that first round of funding that is so critical to the success of a startup.
For a woman founder, statistically speaking at least, the odds of getting that early-stage seed backing is even higher. About 3 percent of all venture-backed companies are headed by female founders.
That makes Batavia's Georgann Carrubba pretty unique. She now has access to $200,000 in seed funding through Launch NY and Excell Partners.
Carrubba was awarded the first $100,000 last year in a startup competition hosted by Launch NY in Rochester. Yesterday, at a press conference at the Innovation Zone in the Med-Tech Center, Carrubba was able to announce that Launch NY and Excell have each agreed to put in another $50,000 apiece.
"We strongly believe our product will be life changing for colostomy and ileostomy patients," Carrubba said. "These types of investments demonstrate we have a viable medical device that is close to being ready for pilot production. We are extremely grateful to Excell Partners and Launch New York for this investment in our company."
Launch NY is a state-backed incubator for tech startups in WNY and Excell is venture capital fund created by the state.
The goal of both organizations is to identify promising startups that will be based in New York and have the potential to grow into big businesses that employ lots of people.
"We all know, economic development is a team sport and Georgann has a team behind her," said Theresa B. Mazzullo, CEO of Excell Partners. "We want to be the wind at her back and we want to see her succeed so that this same team is standing up together in the future ringing the bell at NASDAQ."
That kind of growth is certainly Carrubba's goal, who intends to keep her business based in Batavia and manufacture the device she's designed for colostomy and ileostomy patients that she believes will help them enjoy the kind of active lifestyle that can be difficult with current colostomy bags.
She calls her product Choice Cap. Yesterday (pictures below), she showed off the latest design iteration, which is slimmer and more functional that earlier versions.
With the $200,000 in funding, she can begin production and marketing, but to really grow the company, she will need to find second- and third-round investors.  
The latest round of funding comes from a state grant dedicated to funding women-owned startups and Mazzullo said Tencar is the perfect business to receive the fund's support.
"Tencar and Georgann exemplify -- are the poster child for -- why this fund was created," Mazzullo said. "It's an opportunity to invest in very promising technologies in the region that are women-owned in an area that is going to have job creation. It hits all the high-water marks for what you want in economic development in our region -- promising technology, women-owned, job creation."
Carrubba, a nurse by profession, first came up with the idea for Choice Cap in 2011 and got serious about developing a business in 2014. It's been a long process, she said, but worth the effort. She believes she will make lives better for patients and employ more people locally.  
She's been through tons of meetings, presentations and planning to get to this early-stage funding level, but that's not unusual said Marnie LaVigne, president and CEO of Launch NY. In fact, it's normal.
"A reporter asked me, 'well, it's been a long time,' and, (she replied) 'well, no not really,' " she said. "This is what it is like and a lot of people don't realize it. Entrepreneurship has become such a cool thing for people to do, but the hard work, and the 24/7, and the angst and the 'Can I make it through the next step?' that is something people don't appreciate fully."
Carrubba said she knows she's not done with the hard work, but yesterday's announcement was a milestone in the process so far.
"I'm ecstatic," she said. "There are so many strong, qualified, educated people behind me. I could not be happier. It could not have played out any better."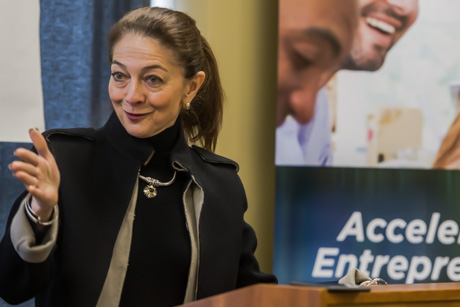 Theresa B. Mazzullo, CEO of Excell Partners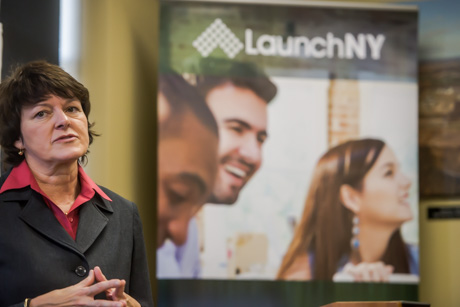 Marnie LaVigne, president and CEO of Launch NY