April 2, 2017 - 1:16pm
Smokin' Eagle host launch party for Rogers Beer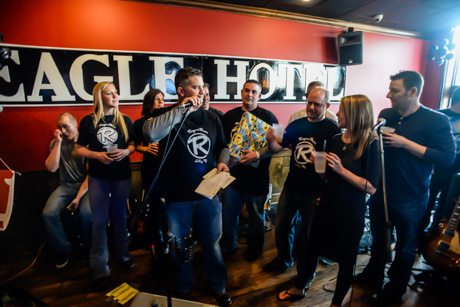 At the Smokin' Eagle BBQ & Brew in Le Roy, the owners hosted an official launch party for Rogers Beer, a beer created by a Rochester brewer and acquired by the owners of the Eagle.
Al Rogers started Rogers Beer more than 12 years ago and achieved some regional success, including 58 Main in Brockport, the BBQ restaurant there owned by Jon and Marc Marcello.
When Rogers told Marc Marcello he was thinking of getting out of the beer business because of growing family commitments, Marc didn't want see that happen so the Marcello brothers and Smokin' Eagle co-owner Jay Beaumont met with Rogers and soon a deal was in place for them to acquire the beer brand and recipes, and as an added bonus, Al Rogers agrees to stay on as master brewer. 
Rogers Beer is now based in Le Roy, though the beer is currently brewed at a facility in Honeoye Falls. But Jon said the goal is to build up the business enough to open a brewery in Le Roy. (Click here for more of the Rogers Beer story.)
Cedar Street Sales and Rentals in Batavia, owned by Guy Clark, sponsored the launch party and the band Free Beer played for the party.