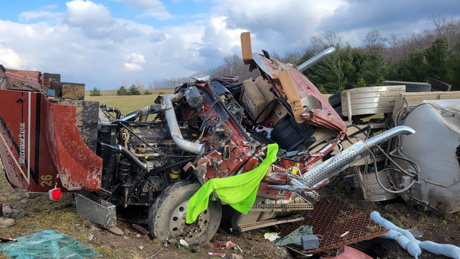 Driving too fast through a curve is the likely cause of a traffic accident on Simonds Road in Darien at 1:43 p.m. on Tuesday, according to a Sheriff's Office accident report.
Charles Chesley, 52, of Varysburg, the sole occupant and driver of a 2016 Western truck, reportedly hauling manure, was entrapped in the cab of the vehicle and needed to be extricated by crews from Darien, Corfu and East Pembroke.
He was airlifted to Strong Memorial Hospital by Mercy Flight Central.  He is listed in "guarded" condition. At Strong, patients in the Intensive Care Unit are listed as "guarded."
No citations are listed on the accident report, which Deputy Kevin McCarthy prepared.
Previous report: Manure truck rollover reported on Simonds Road, Darien
Photo by Alecia Kaus/Video News Service