March 13, 2018 - 3:43pm
Staff at Jackson kick off Partners in Reading with zany skit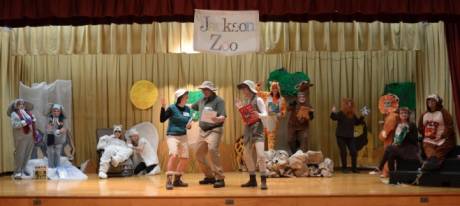 Press release:
Jackson Primary's Parents As Reading Partners (PARP) program was introduced with the traditional and always-entertaining play by staff for the students. This year's theme is Wild About Reading and, in the opening performance, the students were confronted with a lot of confused behavior among the residents of Jackson Zoo.

With monkeys eating potato chips, giraffes roaring about their prowess at protecting the zoo while lions are playfully dancing nearby, and polar bears mistakenly caught in a warm exhibit area while elephants are freezing in theirs – there is a lot of craziness at the Zoo.

But there is hope! Between now and March 29, Jackson students can read with a partner at home for 15 minutes or more each day, and that will bring some facts – and order – back to the Zoo, helping the animals return to their proper foods, activities and habitats.

While this year's goal is to restore order to the Zoo, the goal every year is to build excitement for and a love of reading that not only contributes to academic success but also enriches students' (and their reading partners') lives immeasurably.