July 26, 2017 - 8:45am
State Police appoint new Troop A commander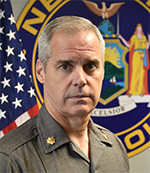 Press release:
New York State Police Superintendent George P. Beach II has appointed Major Edward J. Kennedy, of Buffalo, as the 24th Troop Commander of Troop A. Major Kennedy began his career in the State Police on Oct. 2, 1989 when he entered the New York State Police Academy. Major Kennedy has served most of his career in the Western New York area.
 
In 1999, he was promoted to Investigator and worked out of SP Wellsville. In October 2002, he was promoted to Senior Investigator and assigned to SP Jamestown.
 
In March of 2007, he was promoted to Lieutenant of the Bureau of Criminal Investigations and assigned to SP Farmingdale, Long Island. After seven months in Long Island he was reassigned to Professional Standards Bureau Western region, which covers Troops A, E. After a few months he was reassigned to SP Jamestown as the Uniform Lieutenant. In April of 2009, he was assigned to SP Batavia as the Lieutenant of the Bureau of Criminal Investigation.
 
In September of 2012, he was reassigned to acting Zone 3 Commander (Jamestown area) and in March of 2013 promoted to Captain of Zone 3, Troop A. In February 2014, he was reassigned to Troop T, SP Buffalo as Captain, which covers the Thruway from Rochester to the Erie, Pa., line.
 
Major Kennedy's appointment to Troop A Commander was effective July 13, 2017. He replaces Major Steven Nigrelli who was promoted to Staff Inspector of Professional Standards Bureau - Western region. 
 
As the Troop A Commander, Kennedy will oversee the State Police operations in the eight counties of Western New York including Niagara, Orleans, Erie, Genesee, Wyoming, Chautauqua, Cattaraugus and Allegany. More than 430 civilian and sworn members are under Major Kennedy's command.
 
Major Kennedy grew up in the Buffalo area and is a 1985 graduate of Buffalo State College.  He is married and has three children.