January 25, 2018 - 4:58pm
State Police in Batavia demo one of 18 drones being deployed across the state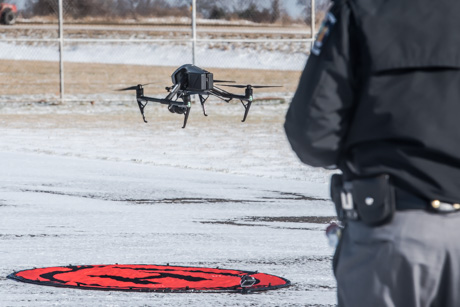 State troopers have a new tool in their aviation toolbox, Capt. Scott Reichel told members of the media assembled at the Batavia Barracks today, where a new program to deploy 18 drones across New York State was announced.
The first two drones were purchased as a pilot project by the State Police. The next 16 were purchased by the Trooper Foundation and donated to the State Police.
Reichel said the program will be evaluated for efficiency and effectiveness, which could determine whether to expand the program or purchase higher-end drones with more capabilities.
The DJI model being deployed, with all accessories, costs about $7,000 each.
"We picked this model because it's a good, proven platform, good airworthiness, pretty good capability to operate in cold weather, and they're used in cinematography and photography, so they have a good camera system," Reichel said.
They will be used in search and rescue missions and criminal investigations. They will also be tested in accident reconstruction, though that requires the purchase of additional technology, but Reichel said the drones could potentially help get accident scenes clear sooner by speeding up the investigation process.
"One reason we picked this drone is cost," Reichel said. "One of the things we wanted to be able to do was deploy these across the state. It doesn't do any good for the State Police to have one drone to service the entire state of New York. We were able to acquire 18 of these and we'll be able to put two in each troop."
There is technology available that could help with locating marijuana grow operations, an operation now handled by state police helicopter pilots, but State Police have not yet purchased cameras with that capability. Nor do the cameras have thermal imaging technology.
"The intention is not really to use these for marijuana eradication at this point," Reichel said. "This is more for support of police operations as they're evolving, more a response-type tool."
The goal is to have four to six troopers in each troop, excluding Troop T, which will be covered by the other troops for drone operations, certified to operate the drones.
To be eligible for considerate, a trooper must first become Part 107 certified by the FAA on his or her own time. If accepted into the program, the trooper will go through another 32 hours of training.
There are policies and procedures troopers must learn and obey. All of the same rules that apply now to searches and privacy will apply to drone pilots, Reichel said.
"As always, we safeguard people's privacy," Reichel said. "That's the way the State Police operates. We've established a privacy policy that governs our use of the drones. We discussed it with the New York Civil Liberties Union. The drone is not intended to circumvent any legal process that we already comply with, so it's just another tool in the toolbox."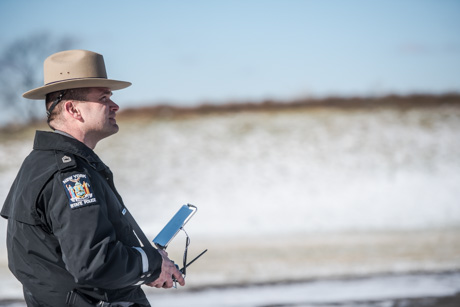 Zone Sgt. Corey Harmon