January 26, 2016 - 2:31pm
Students at Byron-Bergen Elementary commit to raising funds for Ugandan Water Project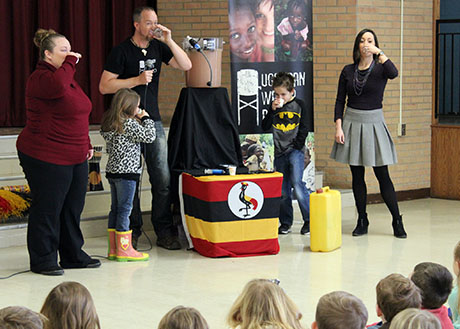 Press release:
On Jan. 25, students at Byron-Bergen Elementary School hosted representatives from the Ugandan Water Project, a humanitarian organization headquartered in Bloomfield that works with communities in Africa to provide safe, accessible drinking water.

After learning how precious water is to children and families in Uganda, students took on the challenge to help raise funds to install a rainwater collection system at a school there. The system will serve a community of almost 400 people for up to 35 years. Byron-Bergen students will change lives.

"It is just as important to us to help kids here in Byron-Bergen see how powerful they are; how every one of them is capable of changing the world, as it is to bring safe drinking water to villages in Uganda," said Ugandan Water Project Executive Director James Harrington. "Our purpose is to help kids grow on both continents.

"The connection between Byron-Bergen and Uganda began last year with a chance meeting between Harrington and third-grade teacher Lynnette Gall. Thanks to the elementary school's Character Education Committee, with help from educational experts at the Ugandan Water Project, teachers school-wide are incorporating the concept of water as a valuable resource into their studies of world culture, geography, and science.

Students will learn how water is used, where water comes from, about the water cycle, and the problems caused by unequal distribution of water around the world.

The Ugandan Water Project presentation began with joyful Ugandan folk music played by Harrington, and a chance for children to try out traditional dance steps. Students then experienced what it is like to try to carry a 40- to 50-pound container of water — a task faced by many Ugandan children who live over an hour from their water source.

Harrington and Ugandan Water Project Communications Lead Megan Busch then spoke about their water projects, over 250 currently, and demonstrated how something as simple as a small filter can make unsanitary water safe to drink.

The nonprofit Ugandan Water Project was founded in 2008, and works with more than 200 communities in Uganda. Their water solutions include rainwater collection systems, well repair and water purification systems. To contribute to Byron-Bergen Elementary School's campaign visit http://ugandanwaterproject.com/product/byron-bergen/ by Feb. 12.
Top photo: Special water filters can purify otherwise undrinkable water. Byron-Bergen students and their teachers join Ugandan Water Project Executive Director James Harrington in sampling clean, safe filtered water.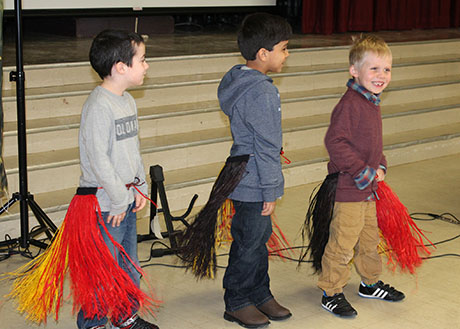 Byron-Bergen Elementary School students shake their tail feathers as part of a traditional Ugandan dance.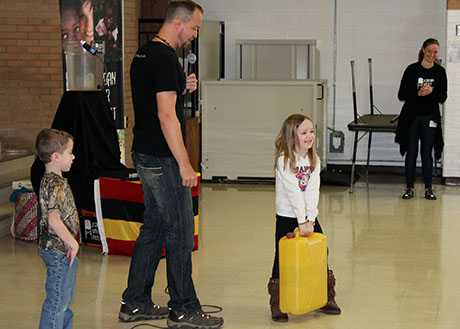 Students try to imagine carrying heavy containers of water over long distances. Many Ugandan children their age face this daunting task every day.