March 28, 2018 - 5:03pm
Students in auto body class learning to do more than just paint and sand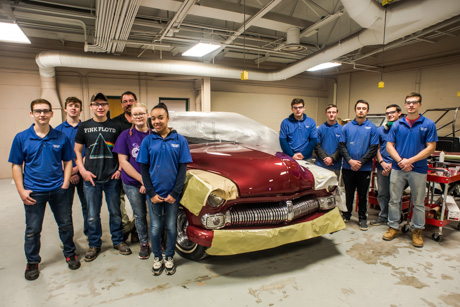 The point -- at least at first glance -- of the auto body shop at Batavia CTE (BOCES) is for students to learn how to repair dings and dents and apply primer and paint to fenders and doors.
On a short tour today, Instructor Jeff Fronk told The Batavian that the kids in his class learn more than just restoration and bodywork.
"I tell my kids in here that we are fix it, men and women," Fronk said. "What I mean by that is we can fix everything but a broken heart and a cobweb. We fix everything teachers and our customers bring to us. You name it, we've fixed it. It's more than just cars -- furniture, metal trade stuff, clear coating, we do fix it all."
Members of the class present today pose (top photo) with a 1953 Mercury owned by a Batavia resident who started the restoration project but then brought it to Jeff and his students when he needed more help. The class is pretty proud of the project, which is near completion.
Below, a photo of Fronk with a mailbox painted by a student.
Fronk loves colors and he loves painting stuff.
"Everything in the world is painted, right?" he said.
In another picture below, a student buffs a go-kart body with a Corvette design. Fronk said the body was rescued from a dumpster and was cracked and broken. He challenged the students to turn it into something special, something they could be proud of when they were done. Besides a shiny paint job, the colors of body change depending on what angle you view it from. He's already obtained another banged up go-kart body for the next group of seniors who come through the class.
Here is a list of students in the class. They all participated in the Mercury project. Not all were available today for the picture at the top of the story.
John Achatz – Attica
Adrien Anderson – Oakfield-Alabama
Taigon Baker – Batavia City (absent)
Arin Bannister – Attica
David Boyce – Pembroke
Hannah Cathcart – Batavia City
Nathan Hamilton – Batavia City
Jarod Kates – Attica
Jeremy Kimanski -- Le Roy
Trinity Liles – Batavia City (absent)
Damin Rautenstrauch – Attica
Connor Tracy-Graybeal – Attica
Alyssa Virgilio – Batavia City
Dylan Walker -- Adult