November 26, 2018 - 1:55pm
Teen who shot killer on Central Avenue pleads guilty to weapons charge with chance to avoid prison term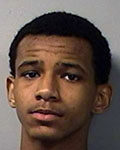 Samuel Blackshear
The attorney for the teenager accused of shooting murderer Nathaniel Wilson in the leg on May 17 on Central Avenue reached an 11th-hour plea agreement with District Attorney Lawrence Friedman today, saving his client a trial on felony assault charges. 
Jury selection was scheduled to begin today for Samuel Blackshear, 17, who was indicted by a grand jury on counts of attempted assault in the first degree, assault in the second degree, and two counts of criminal possession in the second degree.
Today, Blackshear entered a guilty plea to one count of criminal possession of a weapon with the understanding that he could be granted youthful offender status, which could mean probation or a 1 1/3 to four-year prison term, but if he isn't granted YO he faces at least three and a half years in state prison.
Whether Blackshear is declared a youthful offender will be entirely up to Judge Charles Zambito, who will issue his decision at Blackshear's sentencing at 2:30 p.m., Jan. 23, and Zambito, given the severity of the criminal possession of a weapon charge, can only reach that conclusion if he's convinced there were mitigating circumstances to justify Blackshear's possession of a loaded handgun.
Blackshear did not have a license to possess a handgun and at 17; he's too young to obtain a license to possess a loaded handgun.
His attorney, James Hinman, of Webster, will argue, he said, that there was justification, the mitigating circumstances necessary for Zambito to reach that conclusion.
Outside of court, Hinman explained that the video obtained from the pole camera placed by Batavia PD on Central Avenue just a day before the incident shows Wilson stabbing 41-year-old Terry J. Toote twice (Friedman said Toote was only stabbed once), killing him, and after dropping the knife, Wilson picks it up, walks into the middle of Central Avenue and starts approaching three other people in the street.
Toote, according to Hinman, is Blackshear's uncle. Friedman said he doesn't believe that is accurate.
"The video clearly shows (Wilson) threatening those other three people with that knife," Hinman said. "That is clearly, to me, a circumstance under which using deadly physical force to defend someone else is permitted under the law."
If the case had gone to trial, Hinman was expected to argue that Blackshear was justified in shooting Wilson but that only would have been a defense on the assault charge and the criminal possession of a weapon with intent to harm another person charge.
As Friedman explained after the hearing, "As you heard the defense attorney say, they were going to raise a justification defense, defense of yourself for others, and that would address the attempted assault first, the assault second, and also the one weapon possession charge that requires intent to use unlawfully, because if you are justified in the use then it wouldn't be unlawful use. But he realized that there was no defense to the possession of a loaded firearm outside of your home or place of business."
Wilson and Blackshear were two of the three defendants taken into custody after the May 17 incident. Also arrested was Jennifer Urvizu-Hanlon, 48, a Batavia businesswoman who owned a Mexican grocery store in the Valu Plaza.
Urvizu-Hanlon is accused of giving her licensed handgun to Blackshear at the Central Avenue scene.
She is charged with two counts of criminal possession of a weapon in the second degree, both Class C violent felonies.
Her attorney, Christian Kennedy, has indicated at previous court appearances on her behalf that he also intends to raise the justification defense if the case goes to trial.
Hinman thinks that in defending his client he could easily have convinced a jury that Blackshear was justified in shooting Wilson.
"All I would really need to have done is play the video, identify who Mr. Wilson is, who's Sammy, and that should have been the end of it," Hinman said.
Friedman said what Blackshear pled guilty to was actually one of the more serious charges of the indictment. 
"It's a Class C violent felony," Friedman said.
If Blackshear fails to abide by the terms of his release on bail while awaiting sentencing he could lose his chance for youthful offender status and the maximum prison term for the charge is 15 years in prison.
Friedman said he couldn't discuss whether at this point whether he will support, oppose, or be neutral on Blackshear's application for youthful offender status.
So far, Friedman said, he's satisfied with the outcomes of the prosecutions in the Central Avenue cases.
"We have taken care of two of the three defendants and I obviously feel they were appropriate dispositions," Friedman said. "As you know Nathaniel Wilson pled guilty to murder and got 20 to life."
CORRECTIONS: We corrected the sentencing options for Blackshear to include that he may still receive a prison sentence even if declared a Youthful Offender and that if YO is not granted the minimum term is 3 1/2 years.  We corrected the first name for Terry Toote. While Mr. Hinman said that Mr. Toote was stabbed twice, Mr. Friedman says he was only stabbed once. On two occasions, Mr. Hinman has referred to Mr. Toote and Mr. Blackshear's uncle, Mr. Friedman said he doesn't believe that's accurate.
Previously: