November 6, 2015 - 9:23am
Thomas Rocket Car back in Batavia where she belongs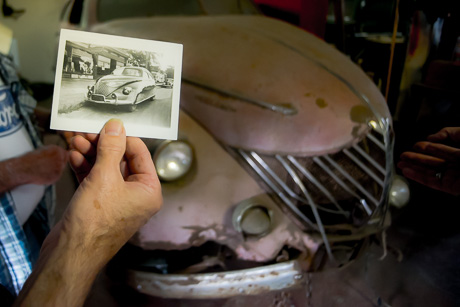 Caked in decades of dust, pockmarked with dings, dimples and rust, the Thomas "Rocket Car" was tucked snuggly into Dick McClurg's garage Thursday afternoon and Ken Witt smiled like a child who just got his first bike.
"She's finally back home," he said.
Witt, like other members of the volunteer crew who helped retrieve the car from a barn in Lockport, where it's been stored since 1977, admitted he's had a few sleepless nights in anticipation of bringing the car back to Batavia.
"That has been exciting, the last couple of days, when we were getting these guys coordinated, all of us were saying, 'It's coming home,' " Witt said. "We've all been waiting to get it here."
The Thomas "Rocket Car" was designed by former Batavia resident Charles D. Thomas. He and Norman Richardson, a talented welder and body man just out of high school, built the car in a rented garage near Main and Ellicott Avenue in 1938. The design, and several innovations in the car, such as a rearview periscope and independent suspension, were dreamed up by Thomas while working on his 1935 thesis for the General Motors Institute of Technology in Flint, Mich.
Once the car was built, Thomas tried to interest any one of the Big Three in Detroit to move the car into production. But whether the automakers felt threatened, or because of the prospect of the World War, or it would have been too expensive to retool, all three companies took a pass. One Detroit executive reportedly told Thomas that his car was 10 years ahead of its time. Thomas went onto a successful career in Buffalo with the maker of the Playboy automobile, and he apparently kept the Thomas car and drove it for some time.
When the car arrived at McClurg's, Witt took an odometer reading: 96,296.
The car was acquired by a group of local antique car buffs, including Witt and Dick Moore, from Gary Alt, of Lockport.
Alt, whose antique car collection consists of a dozen Chevys from the 1930s, found the Thomas wasting away in a field in Batavia in 1977 when he drove out here with the intention of buying a 1934 parts car. When he saw the Thomas, he had no idea what it was. He'd never seen it before or heard of it, but he knew it was unique and worth saving, so he bought it and the parts car and hauled them back to his farm property near Lockport.
The car has been stored in a barn since, and Alt sort of became the car's historian. He tracked down Charles Thomas and Norm Richardson in Buffalo and interviewed them and acquired a binder full of documentation on the car. He wrote an article about the car a few years ago for an antique auto magazine, which is how Witt and Moore became aware that the car still existed.
"It's time to go to another home and let someone else enjoy it," Alt said of his decision to finally sell it.
The local group will restore it, with McClurg heading up the task at his Old World body shop on West Main, and when the work is complete, hopefully by July, the car will be donated to the City of Batavia so it can be put on public display and hopefully become a tourist attraction.
Alt clearly relished showing off the car to the buyers when they came to pick it up Thursday. He told them all about the grill work, the engine, the solid fenders, the blue leather interior, the periscope, the original die kit and showed off the dozen or so original pictures he had obtained. He's taken loving care of it, even if he never got around to restoring it himself.
It has, however, been restored once before, probably in the 1950s, though it's unclear who might have done that work.
The current grill is not quite the original grill designed by Thomas (McClurg will restore the grill to its original design), and while it's apparent the original color of the car was maroon, it was painted red when it was restored. That red faded to pink during the years prior to 1977 that it sat outside.
Those years in a field also took its toll on the chassis. The undercarriage is nearly rusted through. The only thing holding it together is the car's solid body, though it's rusted at the edges. The frame will likely need to be refabricated, but the restoration crew has a leg up on where to turn, potentially, for the work: Graham Manufacturing.
In all the paperwork saved by Alt is a complete list by Thomas and Richardson of every piece of material that went into building the car and where it was sourced. The original frame was fabricated at Graham, as it turns out.  
McClurg, who is officially retired from the auto restoration business, is used to working on cars for which there are thousands of companies, meaning a supply of spare parts, but with the Rocket Car, there's only one. But McClurg said that won't be a problem.
"Rust doesn't care," McClurg said. "Everything is there to work with. You either have to refabricate or work with what's there. It's just got to be done. It's all labor intensive."
Once the car was out of the barn yesterday, Witt got to see the car all the way around for the first time, and he admitted to a sense of awe and wonder.
"It's unimaginable to me, and I've been collecting cars since the early '60s, to think that really, a couple of guys, Richardson and Thomas, were able to do this, because many of the sheet metal things were handcrafted," Witt said. "We've even unloaded the tools used when this was crafted, when it was shipped, and to think of the engineering, it was truly 10 years ahead of its time."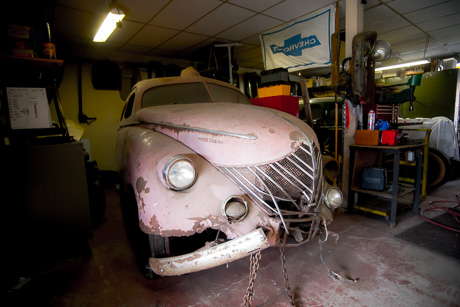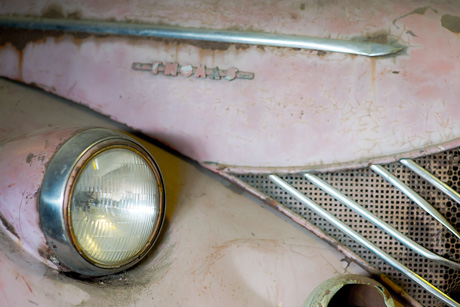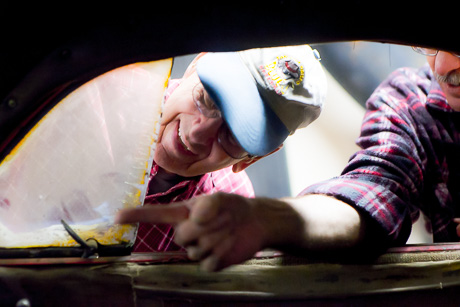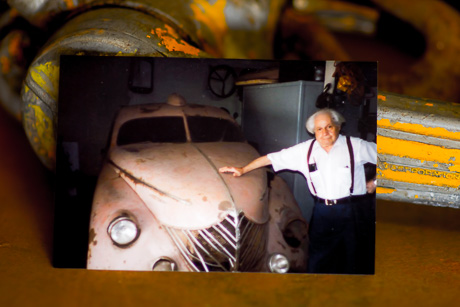 Norm Richardson with the Thomas in a photo that was part of Gary Alt's collection.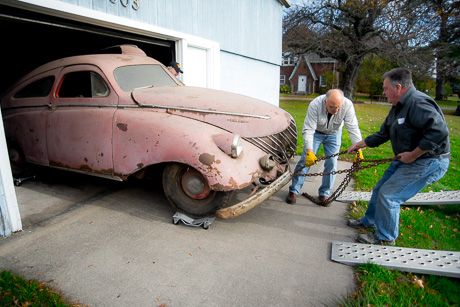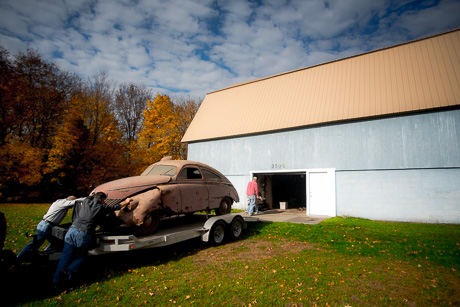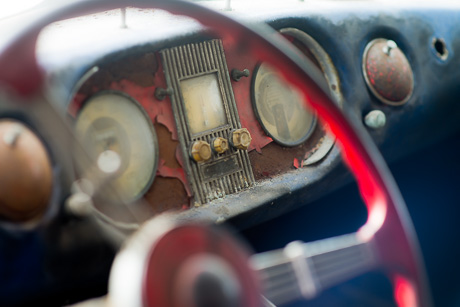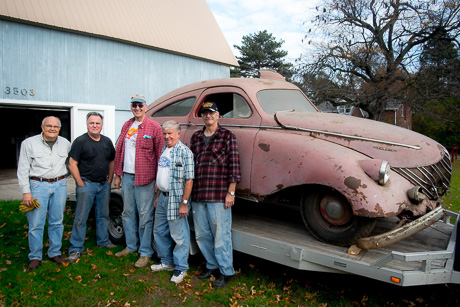 Norm Wright, left, Dick McClurg, Ken Witt, Dave Salway and Gary Alt.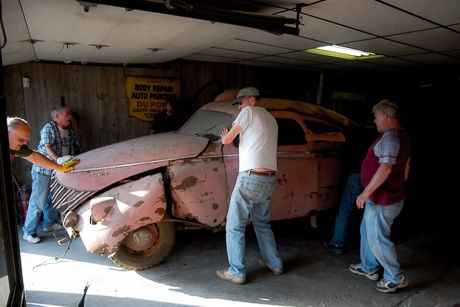 Back home in Batavia ...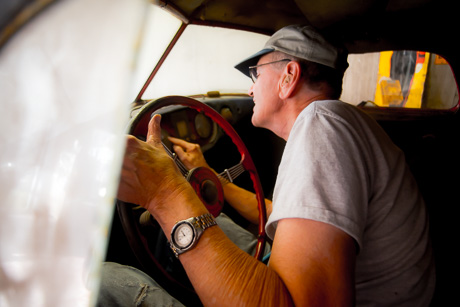 Ken Witt checks the odometer.
November 6, 2015 - 12:02pm
#1
This is really neat. I like to fix up very old bikes, it's fun to watch the progress. I hope we are updated on the progress occasionally. It would be great if this was done in time for next years Summer in the City!