June 6, 2018 - 4:15pm
Tying balloons to deer carcasses is apparently a thing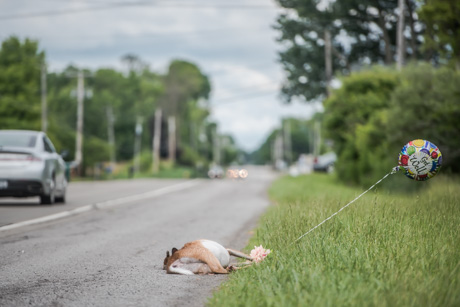 A State trooper is out with a vehicle on Route 33 just outside of the city and reports there is a person there tying balloons to deer carcasses.
A dispatcher chimes in, "I've seen a lot of that on social media."
UPDATE 4:18 p.m.: The trooper asks that somebody come out and remove the carcasses. "These deer have become quite the spectacle," the trooper said. He said school buses have stopped and other cars stop and look. The person he talked to wasn't there placing balloons but taking pictures.
UPDATE 5:48 p.m.: Photos added.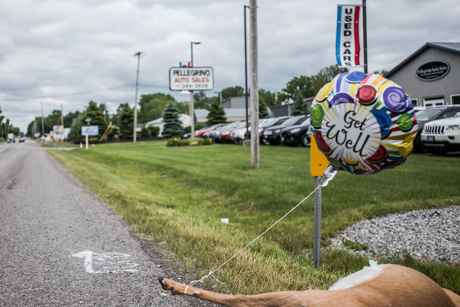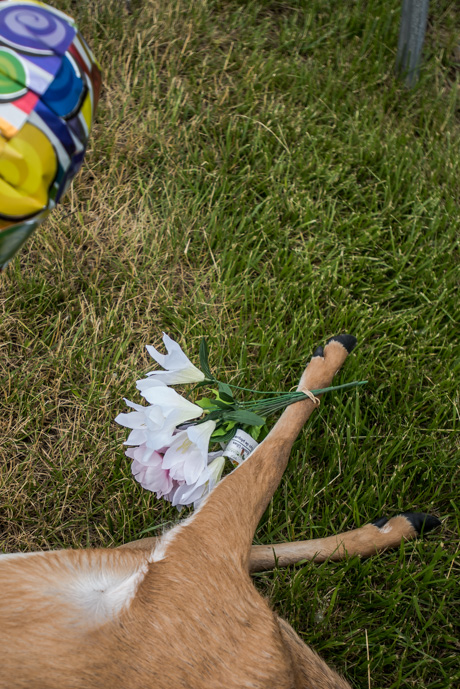 My fiance pulled over on route 33, on public-esque land, for me to take a funny photo. We were just about to leave when state trooper C.M. Bea pulled up behind our vehicle. I was the passenger, but the driver and I remained there because the officer was walking towards my passenger window. We obliged, although we were not stopped. I asked him what was up. He asked for our I.D.'S. I told him I was there to take a funny photo of what I saw and that was it. He suggested that we had desecrated a dead animal. I told him it had been there for hours. He said he had been patrolling that road for hours and had not seen the deer in that state, with a balloon and flowers. I was fully prepared to give him my name and whatever other information he wanted, but he could not have my I.D. I simply refused to be disrespected without cause and have my rights violated because he was "having a rough day", or whatever reason. I would never disrespect a kind person or officer of the law. He wouldn't let us leave until we both handed them over. I had done nothing illegal or suspicious. Finally, as I was forced and my rights were violated, I handed over my I.D. and he wrote our information down and then handed them back, said bye, and high tailed it to his car. I even offered him proof of texts showing that I had seen the deer hours ago before he illegally forced me to become part of his investigation. I filed a complaint with the state troopers and I was told that he was watching the road for whoever was doing that for several hours. Busted in lie number 1. He said I was not under investigation but it was suspicious, and then forced me to show paperwork for no legal purpose. He told me that someone had committed a crime, when in fact no desecration had occurred, no illegal act, no purpose for investigation. I am waiting for the trooper supervisor to get back to me as I have filed a complaint. I always cooperate with officers, but this guy was being disrespectful from the moment he opened his mouth.