Image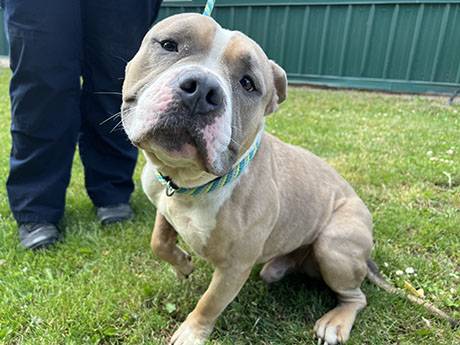 "Brad Pitt" can finally move into a new forever home after his former owners accepted plea deals in County Court today that include them surrendering ownership of the dog, who was found abandoned and feces-covered in an apartment in May.
"Brad Pitt" is the name given to the male pit bull after he was brought into the shelter. His female companion was in such poor health after being abandoned in Apt. 60, 337 Bank St., Batavia, that she had to be euthanized.
The two dogs had apparently been bred and then left in cages without food in the apartment by  Andrew A. Searight, 35, and Jerrtonia A. Scarbrough, 24.  By the time they were discovered, they were both near death.
Under terms of the plea agreement offered by District Attorney Kevin Finnell, Searight and Scarbrough entered guilty pleas to two counts of cruelty to animals under Ag and Markets Law in exchange for a one-year term of interim probation.  They must abide by all the terms of probation and perform 150 hours of community service.
If they successfully complete the program, they can return to court in December and plead guilty to misdemeanor charges, at which time they can be sentenced again to either a term of probation or up to a year in jail on each charge.
Legally, they cannot be prevented from ever owning animals again, but under the terms of the agreement, they will not be allowed to own animals while under the court's supervision.
Finnell said he thought Searight should be required to serve his community service in an animal shelter so that he might better understand the trauma to animals when they're mistreated, but he said he understood that shelters might be reluctant to take him on as a volunteer given his conviction.  
Judge Melissa Lightcap Cianfrini concurred but said whatever community service Searight takes on, he is to inform her and get her approval before proceeding.
She said she personally wanted to closely monitor his probation and community service.
Searight and Scarbrough came into court together with an infant in a carrier.  They now live in Niagara County, and their terms of probation will be supervised by Niagara County's probation department, but their community service will be monitored by Genesee Justice.
Searight admitted in court that he abandoned the dogs and failed to provide proper sustenance and care, leading to the death of one of the dogs.  He agreed to pay restitution for the medical care and shelter of the male dog.
Photo: File photo of "Brad Pitt" by Howard Owens.