December 4, 2020 - 1:10pm
UMMC urgent care director urges local residents to stay safe as clinic deals with surge with COVID cases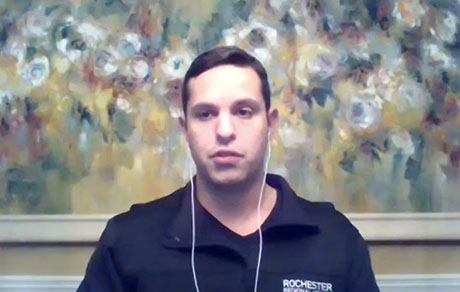 The number of patients visiting UMMC's urgent care clinic at the Jerome Center has more than doubled over the past month due to a greater prevalence of COVID-19 in the community, according to Dr. Andrew Tisser, urgent care medical director.
"We've seen a very large increase in both symptomatic and asymptomatic covid testing and need for medical care in Batavia specifically speaking to the urgent care center," Tisser said this morning during a conference call with local media. "Our volume in the last three or so weeks has increased by about 110 percent."
The number of patients visiting urgent care has done from about 25 per day to 50 or 60 per day, and about 80 percent of the visitors are coming to the client for COVID-related reasons.
There is currently a surge of COVID in the community and there is no way to know if we're at the peak or if the caseload will only get bigger in the coming weeks or months. Either way, Tisser expressed confidence that UMMC and Rochester Reginal Health is ready to adapt to changing circumstances. He believes the urgent care center can handle the coming caseload even if there is an increase in community spread.
That said, the community can help, Tisser said. He encouraged local residents to wear a mask, keep socially distant and follow other CDC guidelines to help control the spread of COVID.
In the spring, healthcare workers were hailed as superheroes and feted with free meals and parades. That attention has faded and people are seemingly paying less attention to guidelines about social gatherings. Tisser acknowledged that there may be a degree of COVID fatigue that may have set it but healthcare workers aren't looking for any special attention.
"We don't want to be seen as heroes," Tisser said. "We want everyone to be socially responsible and know that we're doing our best. So if everyone would please do their best, that would be really helpful. But we are here to help you. We're here to take care of you."
Tesser explained to help people and to keep everybody safe, there are now two ways to access the urgent care clinic. The main lobby for standard urgent care but for people seeking COVID-related service, a doorway with a phone where clients can speak to a nurse who can triage their needs. If it's a test for symptomatic or asymptomatic clients, they are asked to wait in their car where the test can be administered.
People who show up at the clinic are usually there because they're symptomatic and were referred by a primary care physician or they are a known close contact with a COVID-positive person and need to be tested as a result.
Tesser said people who are symptomatic should contact their primary care physician to get guidance on testing and evaluation.
The urgent care clinic only handles mild COVID-19 cases, people with a low-grade fever, a mild cough, other mild symptoms. More serious cases are generally referred to the emergency room.
"We're here to help you, but please try to help us," Tisser said. "The virus is not going away any time soon. We are hopeful with the vaccine coming, but it will take time to get everyone on the vaccine. So everyone needs to keep doing what they're doing to the best of their ability and just be smart and stay safe."