March 31, 2017 - 3:41pm
Vendors at home show about ready for opening this evening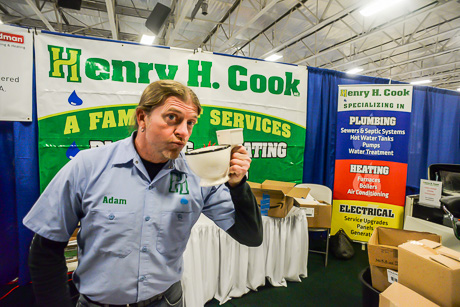 Adam Steadman, with Henry H. Cook, mugs with a, um, mug, that's shaped like a toilet, in the booth for his employer, during set up for the Genesee County Home Show, which opens this evening.
The mug will be used as a candy dispenser at the Henry H. Cook booth.
Dozens of vendors have set up booths at the Falleti Ice Arena in Batavia for the home show.
The show opens this evening at 5 p.m. and runs until 9 p.m. Hours for Saturday are 10 a.m. to 5 p.m., and Sunday, 10 a.m. to 3 p.m.