February 7, 2022 - 1:25pm
Vendors, shoppers turn out at Batavia Downs to support Volunteers for Animals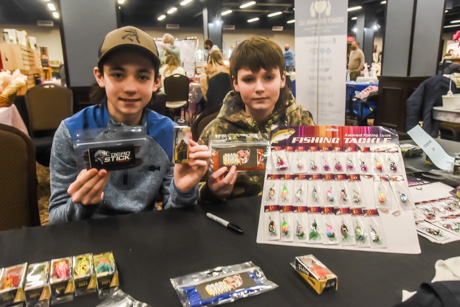 Among the vendors at yesterday's Volunteers for Animals Vendor Fair, hosted by Batavia Downs, were Brock Bucceri and Hunter Wagner making their vendor show debut as entrepreneurs. 
During the pandemic, Bucceri and Wagner (along with friend Gavin Beck, not pictured) decided to start making their own fishing lures.
"We spent a lot of money on fishing lures at Dick's and Cabela's where a frog can cost up to $12," said 13-year-old Bucceri. "So we said, 'let's make some money off of it and we can get some free lures."
The trio makes the senkos they sell themselves. They design the frogs and have them custom manufactured, which they sell for $8.99.
Yeah, that's cheaper than the big retailers but Bucceri said they're still making money -- mostly with sales through Etsy -- because their frogs sell.
The first-ever vendor fair was a big success, according to Angie Knisley, who organized the event for Volunteers for Animals.  It raised more than $2,000 and the more than 300 people who attended brought in a large amount of food and other pet-care donations.