April 7, 2017 - 11:48am
Volunteers serve up nearly 900 spaghetti dinners to benefit Genesee Cancer Assistance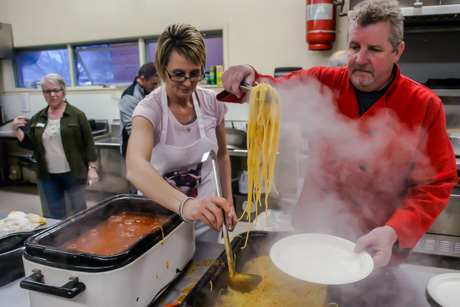 Karen Rolland, Joe Gerace's daughter, and Dave Chase serve up a plate of spaghetti on Thursday evening during the annual Joe Gerace Spaghetti Dinner, held at the Ascension Parish Hall in Batavia.
This was the first dinner, which is a fundraiser for Genesee Cancer Assistance, held since Gerace passed in November at age 80.
More than 40 volunteers helped make the dinner possible this year and nearly 900 dinners were served.
Lois Gerace said the effort was awesome and that her late husband would be impressed.
"I think he would be overwhelmed by the beautiful job they've done," she said. "They've really pulled together. It's a great crowd. It's great to be able to carry on something that he started that meant so much to him."