November 13, 2017 - 12:03pm
WBTA promotes afternoon anchor to operations manager, morning anchor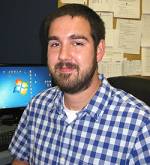 WBTA is promoting multimedia producer and afternoon news anchor Alex Feig to operations manager for the radio station, co-owner Dan Fischer announced today.
Feig assumes his new duties Nov. 27, which include becoming the morning news producer and anchor for all news breaks through 12:30 p.m. on Mondays through Fridays. He will also produce and anchor the Saturday morning newscasts.
The change means Fischer can "retire" from anchoring early morning news.
As Feig settles into his new role, additional duties will include weekly preparation of the "talking points" memo for other station announcers to inform them of information to be shared with listeners during their broadcasts. He will also oversee production standards for commercial and promotional items.
"Deb (Fischer, co-owner) and I have great confidence in Alex," Fischer said. "Please join us in congratulating him on this promotion."
Fischer will anchor afternoon newscasts starting Nov. 27 and continue to supervisor a relaunch of WBTA's website into a more mobile-friendly format.
November 13, 2017 - 10:21pm
#1
Alex needs to read the news in complete sentences, not the edited "headline" style.