October 21, 2018 - 10:22pm
While in Elba, GOP candidate for governor discusses debate controversy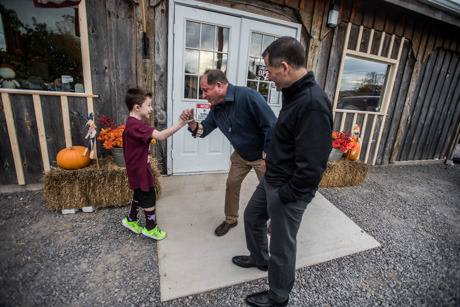 When Larry Sharpe was last in Genesee County, speaking to the members of SCOPE, he rejected the idea that he's the spoiler candidate in New York's gubernatorial race.
He said he's got momentum, strong social media support (the mainstream media doesn't see him coming, just like Donald Trump, he said), and is drawing in not just Republican voters, but Democrats and Independents.
A Gravis Marketing poll from two weeks ago showed Sharpe drawing about 13 percent of the vote, or about 13 times more than any previous Libertarian candidate for governor.
Marc Molinaro, the Republican running for governor, Sharpe said, is the spoiler, not, this time, the Libertarian.
Asked about Sharpe's barb while in Elba on Friday, Molinaro sidestepped the question.
"Listen I don't know him," said Molinaro, who had just arrived at Oliver's Candies. "I've met him twice in my life. I'd venture to guess that most New Yorkers have just heard of him over the last year. I don't know. I'm sure there are plenty of people who want to support a Libertarian candidate and they have every right to do that. I'm not going to second-guess that. We're eating candy."
Combined, at 25 percent and 13 percent, Molinaro and Sharpe don't add up anywhere close to the 48 percent of New Yorkers who say they plan to vote for Cuomo. (Stephanie Minor, the mayor of Syracuse, is pulling 8 percent, and Howie Hawkins, the Green Party candidate, is at 6 percent.)
The controversy of the morning was a commitment by Gov. Andrew Cuomo to "debate" Molinaro on WCBS. Apparently, Cuomo had appeared on the show Friday and said he would clear his schedule Saturday morning to appear on air with Molinaro. Cuomo said he would phone it in.
"Listen, what was offered up this morning isn't a debate," Molinaro said. "It's a theater production."
He later added, "New Yorkers are being treated like they don't deserve or don't have any right to having two candidates come before them and answer questions. No, I'm sorry that's not a debate. It is a fraud."
The "two candidates" phrase wasn't Molinaro's statement during the short interview outside of Oliver's Candies in Elba that verbally excluded the other candidates in the race.
Pressed about his seeming exclusion of Sharpe from a debate, Molinaro said, "We've already agreed to debates that include all candidates. They need to include the Governor, too."
Molinaro was in town with Assemblyman Steve Hawley to tour small businesses, meet with small business owners, and then attend Hawley's 11th annual campaign fundraiser at Batavia Downs. The first stop was Oliver's Candies, which was celebrating Friday and Saturday the grand opening of its new production facility in Elba.
The local business tour included a stop at Post Farms, with Jeff Post, in Elba (bottom two photos), and Chapin Manufacturing in Batavia.
Molinaro said he understood how tough it is for small businesses to survive in New York.
"The seismic increases in the minimum wage over a short period time has cost money," Molinaro said. "The fact that property taxes continue to rise is a burden on small business owners so they get it regardless of what they're producing. But listen if you're going to visit a business it should be sweet."
Top photo: Adaiden Hyman and his mother were visiting Oliver's on Friday as a treat for his birthday; Hawley and Molinaro stopped to wish him a happy birthday.