January 18, 2015 - 7:56pm
Alexander wrestlers take third at Hilton tournament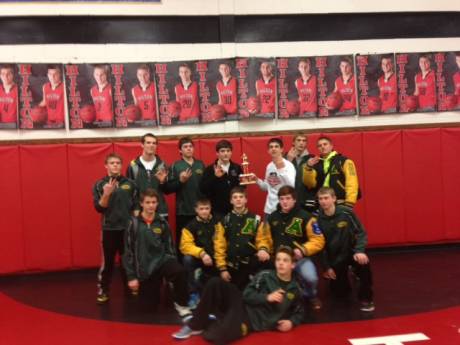 Photo and article submitted by Andrea Aldinger.
After two days of solid wrestling, the Alexander Trojans took an impressive third-place finish with 196 points – while missing two of their better wrestlers – Dane Heberlein (113 lbs.) and Nick Gaiser (126 lbs.). Both competed in the prestigious Eastern States Tournament the weekend before, making the podium with a fourth-place and a sixth-place finish, respectively, at the Clayton Barnard Wrestling Tournament in Hilton over the weekend. Lyndonville grabbed second place with 233 points and the home team, Hilton, took first place easily with 330 points.
Genesee Region wrestlers really stepped it up with four Alexander Wrestlers in the finals – Nick Young (99 lbs.), Mitchell Gordon (120 lbs.), Dylan Raffell (138 lbs.) and Matty Gaiser (152 lbs.) -- and three from Byron-Bergen -- Alan White (126 lbs.), Hunter Taylor (145 lbs.), and Luke Thompson (195 lbs.). There were four Lyndonville wrestlers: Jeff Gress (106 lbs.), Garren Bayne (113 lbs.), Tom Follman (152 lbs.), and Dawson Joy (182 lbs.). Young, Raffell, Gaiser, White and Gress all took the Championship.
Leading up to the championship round there were some exciting matches. 
At 99 pounds, Nick Young (Alexander) upset Tyler Mitchell (Spencerport) with a 13 – 3 win. Tyler McCleod (Alexander) beat Steven Underhill (Byron Bergen) 8 – 5 for a fourth-place finish. Daylon Swearingen (126 lbs.) -- the lone Attica wrestler, beat Anthony Miraglia (Byron-Bergen) with a 7 – 4 decision for third place. Tristan Aldinger (132 lbs., Alexander) fought off Lyndonville's Dustin Hinckley with a 3 – 1 decision to take third place. 
A few other notable matches were Chris McDonald (138 lbs., Lyndonville) pinned Jack Borelli (Greece) in :38 seconds to take third place. At 152 pounds, Alexander's Alex Hadsall had a close win 11 – 9 vs. Will Thompson (Byron-Bergen). Danny Komitch (Byron-Bergen) had an impressive win over Devon Joy (Lyndonville) with a 4 – 3 decision getting a third-place finish. Derrick Busch (Alexander) won by decision over John Kil (Brighton) to take finish third.