July 4, 2013 - 10:33pm
Appearance of sky lantern prompts City Fire to warn against illegal device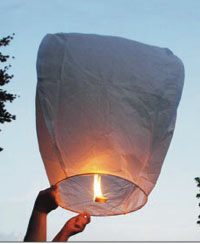 A sky lantern may look pretty, but firefighters warn they're potentially dangerous and also outlawed in New York.
Tonight, one floated over the City of Batavia Fire Hall that narrowly missed landing on the roof of Saint Mary's.
"Should this unattended fire in the sky have landed on the roof of the church or surrounding buildings it could have caused significant damage," said the department in a press release about the incident.
Firefighters retrieved the lantern and extinguished the still-burning fire.
"We ask that all residents discontinue the use of 'sky lanterns' so they and their neighbors can enjoy a safe 4th of July," the release said.
PDF: A safety alert about sky lanterns.
PHOTO: From the PDF, not the actual lantern from tonight's incident.
Also, they are used by pyrotechnic companies, to test the wind at altitude, before setting off fireworks displays.
Also, pretty sure this is some alarmist BS, because all roofing materials are flame retardant.... have you ever tried to light a shingle on fire? It aint easy. Even if it does burn nicely once it gets going.