July 30, 2014 - 5:18pm
Batavia Downs security guard performs CPR on patron, saving a life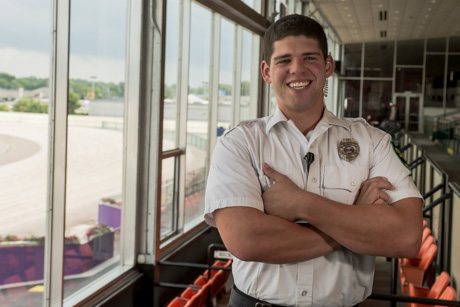 A Batavia Downs patron is alive today because of the training and calm professionalism of a security guard who started CPR and helped administer defibrillation.
Cory Lapp is only 21, but he's already been a volunteer EMT with the Attica Fire Department for three years (he joined the department at age 16). His medical training came in handy while working security at the casino when he checked on a report of a patron who was down and unresponsive.
"There were a couple of people standing around, so I peaked over and realized he wasn't moving at all," Lapp said.
Lapp immediately started CPR and summoned a partner, Officer Bob Humphrey, to retrieve the defibrillator.
Together, they used the machine on the patient and the man revived and was later transported to the hospital.
The name of the patient has not been released.
As an EMT, Lapp has been called on to perform CPR before, but he said it still feels pretty good to save a life.
"It feels good to know that when he was in my hands, he was alive," Lapp said. "It's a good feeling. It's kind of hard to describe it."
As Lapp walked with a reporter through the facility, coworkers congratulated him.
"Good job, Cory," they said as he walked by.
July 30, 2014 - 5:20pm
#1
Bravo! I'm happy to read a story like this!