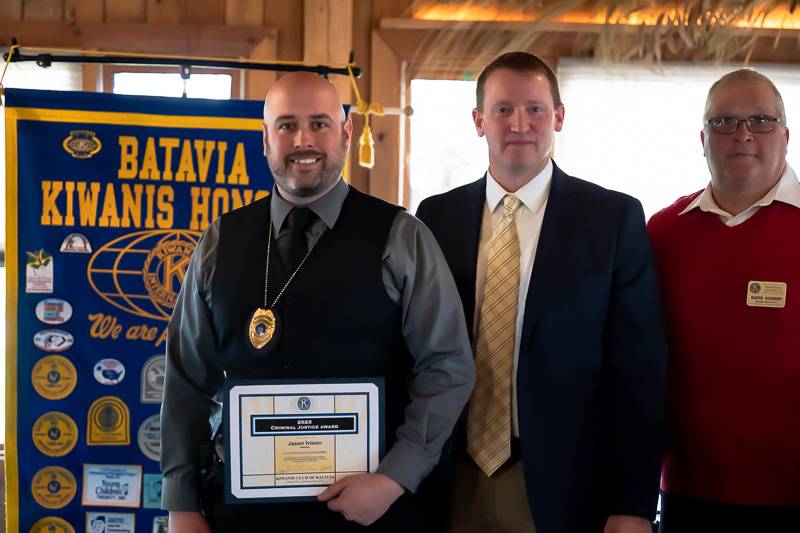 At Thursday's recognition luncheon held at Batavia Country Club, the Kiwanis Club of Batavia announced recipients of the 2023 Criminal Justice Awards. 
 The Kiwanis Club of Batavia Criminal Justice Award is presented to a member or members of the community, law enforcement, or a criminal justice agency serving the citizens of Genesee County whose exceptional career achievements and conscientiousness to citizenship have demonstrated a spirit of selfless public service or demonstrated an act of exceptional valor or heroism.
 The 2023 Award Recipients are: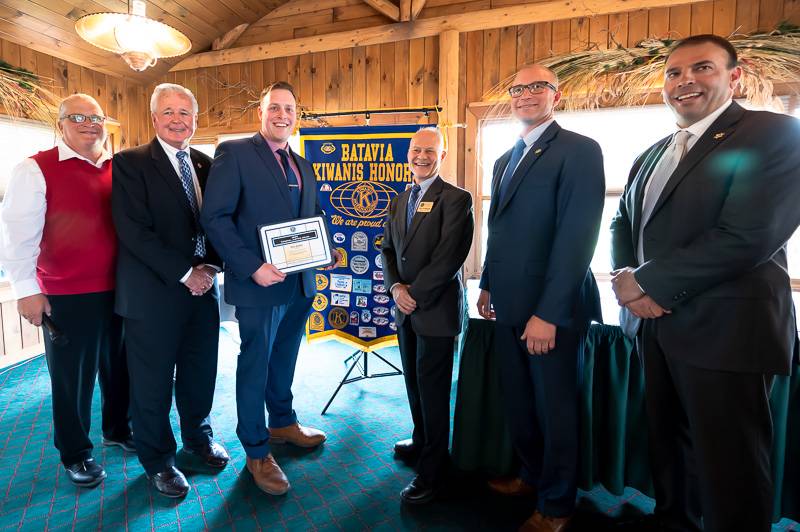 Investigator Erik B. Andre, Genesee County Sheriff's Office  
Investigator Erik B. Andre began his career with the Genesee County Sheriff's Office in November of 2017, when he was hired as a Deputy Sheriff.  He brought with him prior law enforcement experience as he had previously worked as a Police Officer for the Village of Attica Police Department.  Investigator Andre's work ethic and law enforcement knowledge were quickly evident and led to his selection as a Field Training Officer.  Investigator Andre continued to perform his duties as a Deputy Sheriff to the highest standard, and in January 2022, he was promoted to the rank of Investigator.
Investigator Andre presents a calm demeanor and is a consistent example of professionalism.  Investigator Andre is a member of the Crisis Negotiator Team, where his ability to remain composed in high-stress situations is a valued resource.  Investigator Andre goes beyond the call of duty and shows a true commitment to the community.  Among his investigative duties, Investigator Andre has proactively developed and pursued several investigations involving retail theft crimes, which have led to arrests and successful prosecutions.  He takes pride in his work, he is an advocate for crime victims, and strives for an equitable outcome in his investigations.  In addition to his investigative responsibilities, Investigator Andre acts as a departmental Firearms Instructor and an Electronic Control Device Instructor.  He has been the recipient of a Sheriff's Office Meritorious Service Award and a Commendation.  Investigator Andre was nominated for this award by Sheriff William A. Sheron Jr. and Chief Deputy Joseph Graff.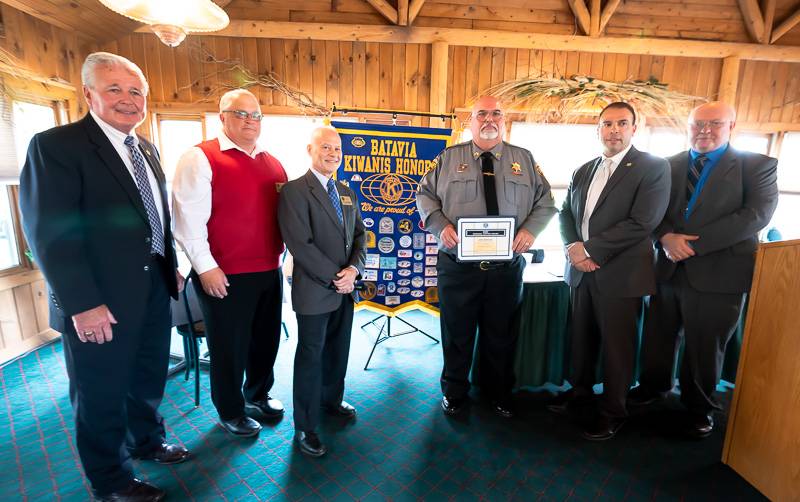 Senior Emergency Services Dispatcher John W. Spencer 
Senior Emergency Services Dispatcher John W. Spencer has been a member of the Genesee County Sheriff's Office since 2007.  For the past six years, John has supervised the afternoon shift of the Emergency Services Dispatch Center, a shift that receives a high-call volume and regularly deals with crisis situations.  Senior Dispatcher Spencer's experience and knowledge are recognized during these high-stress calls for service.  He makes sure the appropriate equipment and personnel are notified and dispatched, which is a valuable asset to first responders. 
John has been the recipient of a Sheriff's Office Meritorious Service Award recognizing his excellent leadership and guidance for dispatchers, especially newer dispatchers. John has also received five Sheriff's Office Commendations which has proven his professionalism, compassion, and dedication to the citizens of Genesee County and Emergency Services.  Senior Emergency Services Dispatcher John W. Spencer was nominated for this award by Sheriff William A. Sheron, Jr. and Undersheriff Bradley D. Mazur.
Officer Jason Ivison, City of Batavia Police Department 
Police Officer Jason Ivison (top photo) has been employed by the City of Batavia for over 12 years.  He has excelled as an officer on road patrol where he served as one of the department's primary Field Training Officers and was then promoted to Detective in 2019.  Since that time, Detective Ivison has developed into a key member of the Detective Bureau.  Detective Ivison has worked many high-profile investigations which have led to numerous arrests. Detective Ivison is known for completing thorough casework, which ultimately contributes to successful prosecutions in court.  Through his work, Detective Ivison has shown he is committed to seeking justice on behalf of the victims in his cases.  In addition to working his caseload, Detective Ivison also manages the City of Batavia's Sex Offender Registry.  Detective Ivison should be commended for his superior performance on behalf of the City of Batavia Police Department and the community in which he serves. Officer Davis was nominated for this award by City of Batavia Police Chief Shawn Heubusch.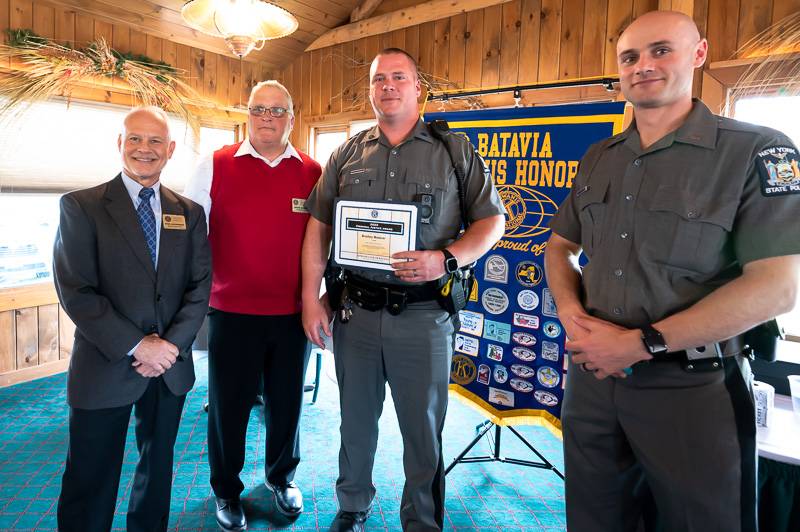 Trooper Bradley Maderer, New York State Police 
On December 23, 2022, during the harshest conditions of Winter Storm Elliott, Trooper Bradley Maderer, along with Probationary Trooper Sean Ogden, responded to Judge Rd (SR 63) in the Town of Alabama for at least 25 occupied, disabled vehicles, both in and off the roadway.  Time was a factor as plows were unable to clear the roadway, and some vehicles' gas levels were getting low.  Trooper Maderer located a resident who allowed their heated garage to be used as a temporary shelter.  Unable to effectively navigate the scene with his patrol vehicle, Trooper Maderer and Probationary Trooper Ogden patrolled on foot, checking the occupants of each vehicle. While experiencing below-freezing temperatures, extreme wind and snowfall, the Troopers guided the disabled vehicle occupants to the makeshift warming shelter or checked on them periodically if they wished to remain in their vehicles. Trooper Maderer remained on scene throughout the night at the shelter to ensure the safety of all citizens.  Trooper Maderer's relentless effort undoubtedly saved lives, and he should be commended for his actions.  He played an integral part in the NYS Police response and was a big reason why there were no fatalities in Genesee County during Winter Storm Elliott.  Trooper Maderer was nominated for this award by New York State Police Zone Sergeant Benjamin Fasano.   
Deputy County Attorney Paula Campbell
Deputy County Attorney Paula Campbell's dedication, professionalism, and knowledge of the law makes her a true asset to Genesee County.  She is always willing to educate others about the law, including employees, school officials, workers at the Child Advocacy Center, etc.  Ms. Campbell visited all the school districts in Genesee County to explain to staff the education requirements for abuse and neglect cases.  She also educated school staff on PINS/JD requirements, Raise the Age and other laws.  Recently, Ms. Campbell was made a supervisor within her department.  She is professional, empathetic and is always available after hours for situations that arise.  Paula Campbell was nominated for this award by Genesee County Department of Social Services Child Protection Supervisor Sandy Wojtaszczyk.
Charles L. Mancuso Mock Trial Award
The "Charles L. Mancuso Award" was presented to the members of the LeRoy High School Mock Trial Team as winners of the 2023 GLOW (Genesee, Livingston, Orleans, and Wyoming Counties) District Competition in the New York State Bar Association High School Mock Trial Tournament.  The award reads "Dedicated to the Memory of an Outstanding Attorney-Citizen", Mr. Mancuso, a Batavia lawyer, served as coordinator of the local competition until his untimely death 16 years ago.  
The LeRoy High School team members honored at the luncheon include Jacqueline Arneth, Elaina Blake, Addison Burnside, Matthew Covert, Michael Covert, Katelynn Everett, Simeon Fisher, Andrew Greene, Meredith Ianni, Allie Ingles, Lyla Jones, Zachary Kirby, Maureen Klaiber, Ethan LaBabara, Daniel Mark, Molly Osterman, Anina Pabros, Emily Rigdon, Jack Tonzi, Carolyn Wujcik, Gabriella Zitz, Teacher-Coach Taylor Netchke.  The coordinator of the local Mock Trial Program, Kristie DeFreze, presented the award.
Note: Our apologies to Paula Campbell, and the Le Roy Mock Trial team. Because of a photographer's error, we don't have pictures of Campbell or the team.