February 16, 2015 - 12:30pm
Batavia man accused of trying to stab girlfriend with scissors inside Attica Tops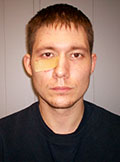 Joshua Pehrson
A Batavia man is in custody in Attica after an alleged assault at the Tops Store in the Wyoming County village.
Joshua T. Pehrson, 29, of 330 Ellicott St., Batavia, is accused of choking his girlfriend while they were parked in a car outside the store. The woman, an employee of Tops, entered the store and Pehrson allegedly attacked her again when they got inside, choking her and attempting to stab her with scissors.
Employees and customers intervened and held Pehrson until Attica PD officers arrived.
He is charged attempted assault, 1st, criminal obstructing breathing, menacing, 2nd and criminal possession of a weapon, 4th.
The suspect was jailed on $25,000 bail or $50,000 bond.