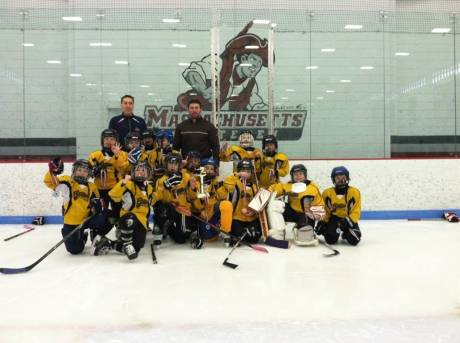 Information from Holly Eschberger:
The Firland Flyers, a Mite Level travel hockey team out of Batavia, NY, took to the road last weekend to play in the 2014 Mullins Mite Madness Tournament in Amherst, Mass., on the uMass campus! The Firland Flyers, the only NY team in the tournament, faced teams from Massachusetts, Connecticut and Vermont and took 3rd place overall. Earlier this year, The Firland Flyers took 1st place at the Lakeshore Tournament in Greece and placed 3rd in their division at The Pepsi Tournament in Buffalo.
The 2013/2014 season was the inaugural year for The Flyers and the 2014 Mullins Mite Madness Tourney was their last outing as a team. Some of the players will move on to play at the Squirt level; others will continue to play as Mites.
The Flyers team is led by Coach Kevin Hamilton, Coach Fred Hamilton, Coach Dan Hudson and Assistant Coaches Jeff Whitcombe, Ryan Whitcombe and Joe Eschberger, managed by Bob Johnson.
The Firland Flyers Team is made up of 7- and 8-year-olds from Alexander, Batavia, Le Roy, Oakfield and Pavilion. Congratulations to Bronx Buchholz, Mason Cook, Chase Cummings, Joe DiRisio, Will Eschberger, Cooper Hamilton, Ryan Hamilton, Noah Hudson, Alex Johnson, Jameson Motyka, Greg Narburgh, Brennan Pederson, Mac Wormley and Noah Whitcombe on a successful, memorable and FUN season!