November 8, 2014 - 6:31pm
Batavia turns tables on Livonia to win first Section V title in 23 years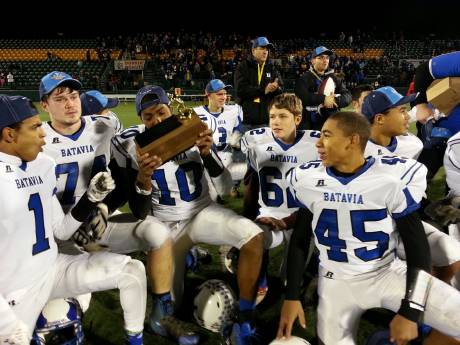 With a come-from-behind touchdown with just over two minutes left in the game, Batavia struck for a touchdown and then a daring two-point conversion to beat Livonia 15-14 and win the program's first Section V title since 1991.
The late strike was nearly a mirror of how Livonia handed Batavia its only defeat of the season in 2014's first game when the Bulldogs scored a touchdown in the final seconds.
The gutsy call to go for two following a 69-yard TD reception by Ryan Hogan with just over two-minutes left in the game harkened back to the fifth game of the season against Geneva when Head Coach Brandon Briggs went for it all with two minutes left to pull out an 8-7 win.
Batavia scored first, but the touchdown didn't come until the start of the second quarter. The Blue Devils carried a lead into the half, but Livonia scored on its first possession.
The teams traded possessions until 2:28 left in the fourth quarter when Livonia scored again.
With 2:07 left and the ball on Livonia's 31, Batavia struck on a second-down play when Greg Mruczek hit Hogan streaking down the side line, hitting him in stride near the 20. Hogan dashed into the end zone.
Livonia is a team built around a grinding ground game and couldn't muster the quick-strike capabilities to get the ball within at least field goal range. Batavia took possession of the ball on downs with less than 30 seconds left and fans and players erupted in celebration.
Mruczek finished 15 for 25 for 334 yards and two TDs. He also had four carries for 29 yards, including the winning two-point conversion. Hogan had three receptions for 113 yards. Jarrett Laskett had five receptions for 88 yards. Trevor Sherwood had two receptions for 77 yards and a TD. Dom Mogavero carried the ball eight times for 33 yards. Trevor Rittersback had 16 tackles, two sacks and a fumble recovery. 
For Livonia, Josh Henderson had 24 carries for 168 yards and a TD. Liam Clements had eight carries for 67 yards.
Thanks to Bob Brown and Juan Velasquez for the play-by-play on WBTA.
Video by Alecia Kaus/Video News Service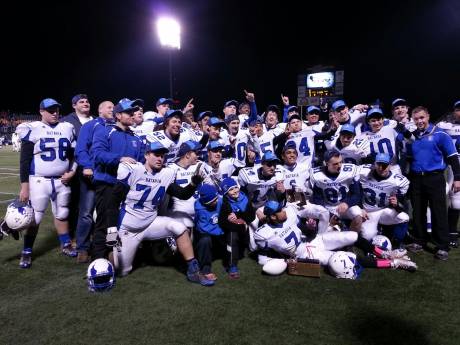 Photos by Alecia Kaus