November 19, 2012 - 9:58pm
Charity tattoo and piercing event at High Voltage set for Dec. 6 and 7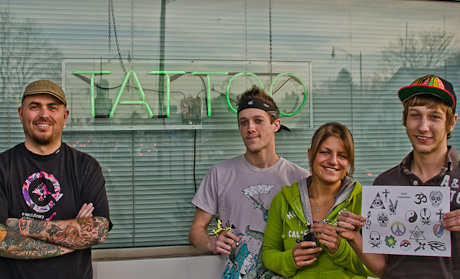 For the second year in a row, the crew at High Voltage Tattoo and Piercing is hosting a tattoo and piercing marathon with proceeds benefiting local charities.
This year, all money raised during the two-day event will be donated to Don Carroll's Toys for Kids and Golisano Children's Hospital. 
You can pick from a group of pre-determined tattoos for $30 per tattoo and piercings for $20 (includes jewelry).
No appointments will be accepted during the two-day event, which is from 10 a.m. to 8 p.m., Dec. 6 and Dec. 7.
Last year, the event was only one day and the High Voltage crew worked until late into the night trying keep up with the demand.
High voltage is located at 110 W. Main St., Batavia.
Photo: Mark Fanara, owner, Kenny McCarthy, Lisa Vokes and Andrew London.
November 20, 2012 - 11:52am
#6
This is a wonderful thing that Mark and the gang at High Voltage are doing.What is most impressive is that "ALL THE MONEY" raised is being donated.
Personally I have 24 Tattoo's and ten (10) were done by Mark.My 1st tattoo was over 45 years ago while I was in the Navy serving my country.
Putting ink on ones body is a choice and no one should be judged because of their decision to have them.
Doug, FYI -----The leaf of the Marijuana Plant if done correctly makes for a really nice design.Having one doesn't mean your a "Pot Head" only my opinion.