May 13, 2014 - 2:35pm
In Chef K's kitchen, if it's not right, it's wrong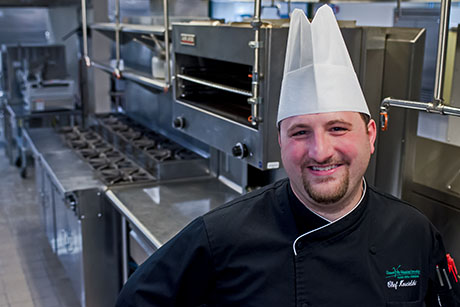 Even without the profanity, celebrity Chef Gordon Ramsay is profane. He's mean even when his soliloquies aren't bleepin' tirades.
Some of the students in the Culinary Arts Program at BOCES compare Chef Chef Nathan Koscielski to Gordon Ramsay. Even "Chef K" himself makes the comparison.
"I do yell in the kitchen sometimes," Koscielski said.
Of course, Chef K never drops f-bombs. No teacher would. But neither is he mean. There are no insults tossed around like pizza dough in Chef K's kitchen. If he raises his voice, it's more like a stern version of Hugh Beaumont than a a vein-popping drill sergeant.
Chef Nathan Koscielski's favorite cooking shows
Ramsay — star of such shows as "Hell's Kitchen" and "Ramsay's Kitchen Nightmares" — has high standards and high expectations, which seems to be the fuse that ignites his expletive-deleted critiques of other chefs and restaurant owners.
Driving home those same points about quality and consistency is also the growl in Chef K's bark.
"There have got to be standards," Koscielski said. "Everything has to got be uniform and everything has got to be high quality. It's got to be done the right way, the perfect way, or it's wrong. If it's wrong, we're not going to sell it to a customer."
The emphasis on the right way over the wrong way is one of the reasons Koscielski has been able to guide his students to three consecutive wins in an annual culinary competition in Buffalo.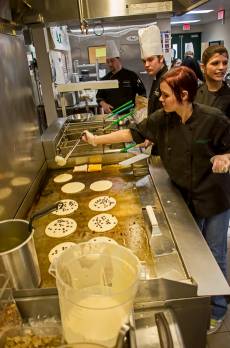 The wins in the Taste of Culinary Competition hosted by the American Culinary Federation of Greater Buffalo are impressive. Koscielski high school students have notched their consecutive victories competing against college students who come backed by three, four and even five instructors, while for the BOCES students it's just them and Chef K. This year, the Batavia contingent even outscored all of the pros from Erie County's top restaurants and country clubs.
"I'm a member of the American Culinary Federation, I know all the chef instructors at the local colleges; we kind of grew up in the food services industry together, and the fact that I'm there by myself with 15 high school students and we're beating the faculty and staff of colleges, it's a great honor," Koscielski said. "To do it three years in a row means it wasn't beginner's luck."
It's more than just fate that has brought Koscielski to Batavia. It's a bit more like destiny.
Growing up in Derby, Koscielski said by high school he was well down the path to nowhere, just another ne'er do well in a small rural town.
"My Culinary Arts teacher in high school saved my life," Koscielski said. "If it wasn't for that man, his name was Leroy Good — and, again, I was a very troubled student in high school — if it wasn't for Leroy Good and Culinary Arts I would be living in my parents' basement, be thrown out of my parents' house and in jail or dead. BOCES saved my life, honest to God."
Or perhaps it wasn't destiny. Growing up, there was no cooking in Koscielski's home. At dinner time, his parents would pull out the menus from local restaurants and everybody would decide what to order and dad would go pick it up. After he started taking culinary classes, he was eager to cook for his mom and dad, but found there weren't even any pots and pans in the kitchen.
"My parents oven is still picture-perfect clean to this day," Koscielski said. "It's about 40 years old, but they never use it."
Despite this handicap, or perhaps because of it, Koscielski became passionate about cooking.
Koscielski holds a degree in Culinary Arts from the the Pennsylvania Culinary Institute/Le Cordon Bleu and a bachelor's in Career and Tech Education from SUNY Buffalo. He's been a sous chef at the Niagara Club and Templeton Landing. He was also a banquet chef at the Buffalo Club.
He started teaching at BOCES 1 in Erie County, but as the low man on the totem pole, when spending cuts came, his was the first job lopped off.
When a long-term substitute teaching position opened in Batavia, Koscielski accepted the job offer.
He was immediately impressed with the school. The kitchen, he said, with its professional stoves and industrial-grade mixers and wide assortment of pots and pans and utensils, is one of the best equipped he's come across in an educational setting. He's also been treated very well by the administration, he said.
"One thing that really hit home for me was in my first week of substitute teaching here, I got a knock on my door and it was Dr. Glover, our former superintendent, and he was just introducing himself and said if I ever needed anything let him know," Koscielski said. "That hit home with me because I worked at Erie 1 BOCES for two years and for two full years of working at Erie 1 BOCES I never met the superintendent once."
Five years ago, Koscielski was promoted to the full-time, permanent instructor position in Culinary Arts and quickly became a student favorite.
"Chef K is the smartest person I've ever known," said second-year culinary student Bob Zien. "He's literally a teacher of not only culinary arts, but life skills. The guy is a genius. He's a genius. It makes me proud to be able to say I was in his class. It's not often you have a teacher who is as smart and as caring about his students as Chef K is."
Gina Muroff, also a second-year student and this year's class president, said she was both surprised and impressed her first day of class with Koscielski.
"That first day of class you come in and you think, 'ok, I'm going to learn about culinary, but on that first day, everything he taught was about life," Muroff said. "He said nothing about culinary. He talked about, what do you want to do when you get out of here, how are you going to succeed? He showed us that you need to have motivation to pursue your own dreams, whether it's going to be in culinary or not."
Chef K talks a lot with his students about passion — passion for cooking, but more, passion for doing your best in every aspect of life, and by all accounts Koscielski is a zealous mentor.
"Any program starts with the teacher," said Batavia BOCES Principal Jon Sanfratello. "He's passionate about what he does. What attracts kids to his program is his passion and his drive."
Chef K's passion is one of the great lessons former student Peter Boylan said he got from his two years in BOCES Culinary Arts Program. Boylan is now at the American Culinary Federation.
"I learned you don't get into this industry for the money," Boylan said. "You really have to care about what you're doing. I may have to start off as a dishwasher and work my way up to a line cook or a sous chef and so on before I become a chef, but I think it's worth it."
"I've wanted to be a chef since kindergarten," Boylan added. "I never did anything about it until Chef K introduced me to all the aspects of cooking. That's when I definitely fell in love with the industry. He showed me it's not always going to be fun, but it's worth it. I would say I found a much larger passion for the industry because of him."
From life lessons, Chef K's class moves to safety and sanitation. That's four weeks of intense lessons on foodborne pathogens, food storage, cooking temperatures, cuts, burns and slips and falls. Next, students learn how to make breads and pastries, which overlaps with instruction on overall culinary skills.
The fun kicks up a notch with the lessons on knife skills as students learn how to chop, slice and dice. Knife skills segues nicely into soups, broths and stews.
"Soups are a good way to learn about culinary arts because you have knife skills with cutting vegetables, and you have to understand the cooking of the stock or the broth of the soup," Koscielski said. "If you're making cream soups, then you go into the realm of thickening agents, white rue, cornstarch slurry and stuff like that. So soups are a really good devise to squeeze in a lot of culinary education into one unit."
After soups, students move into grilling, roasting and frying, and, of course, desserts.
As the lessons coalesce, Chef K opens the annual teacher's cafe. For 25 weeks, teachers need not pack their own lunches or take a quick run to the deli during their afternoon break. They can saunter into the department's dinning room for a buffet of brimming with culinary variety.
As winter melts into spring, it's time for the entire student body of BOCES to get a chance to sample the cooking of their peers. The student dining experience moves beyond self-serve dishing at a buffet, as students learn about food service — taking orders, delivering dishes and ringing up sales.
In the kitchen, the aspiring chefs flip burgers, fry fries and drop pancakes — or whatever else is on the menu that day — and to get all the hot food plated up at the right time takes teamwork. The cooks must coordinate and communicate. There might be some Chef K yelling involved.
"The more this team works together, just like a basketball team, the better they're able to understand where each other is going to be on the kitchen floor or the court," Koscielski said. "Once they understand not only how they work themselves but how each other works, then you have a kitchen that is a well-oiled machine. "
It's all about establishing good habits, Koscielski said.
"There's a famous line by a famous teacher, Harry Wong, that procedures will become routine, and I base my teaching philosophy of that," Koscielski said. "You set up a lot of procedures at the beginning of the school year or the beginning of the lesson and after a while those procedures become routine for the students. Once those become routine you have a good educational environment for the students."
During one cafe day, when a student brought over an ice cream sundae intended for a customer, Chef K told him flat out he got it wrong. There was chocolate on the edge of the plate. The cherry juice was dripping down the whipped cream. The brownie wasn't in the center of the plate. It wasn't made right, so it was wrong.
But Chef K didn't yell. He sent the student back to the dessert table and made him do it over. The yelling commenced when the student returned.
"That's a thousand times better," Koscielski bellowed, his voice ringing off the stainless steal hoods. "It's a thousand times better. A thousand times better."
Talking about the incident later, Koscielski said it's important to emphasize standards with each and every dish that might leave the kitchen.
"Once the student understood how to properly plate the item up, it was thousand times better," Koscielski said.
Lesson learned.
Muroff said the fact that Chef K has such high standards shows that he cares about the future of his students. He knows what real life is like and he wants them to be ready for the what the work world is like.
"He's definately the best teacher I've ever met because as I said, he cares about our future," said the Oakfield-Alabama student who plans to pursue two years of study as a pastry chef before enrolling in a four-year culinary college. "He knows that if he doesn't show the kids how to succeed in their future, then they don't know what they'll be doing when they graduate. He teaches us everything that we'll need in our future."
Boylan thinks Chef K is harder on the students who are serious about culinary as a career. Once Chef K learns you aspire to double-breasted jackets, jaunty scarves and toques, he's going to lean on you, call on you to learn every day and do your best to be the best.
That challenge to mastery has proven a big advantage, Boylan said, as he's advanced in his studies.
"I'm on the hot food team in college now," Boylan said. "I think without him pushing me the way he did in class I wouldn't have the opportunity to be where I am now."
Culinary arts isn't just about cooking. Students can also earn math and science credits, and next year they can also earn English credits. One way or another cooking involves math, science, reading and writing, and Koscielski said students will often take a lot more interest in those subjects when they're tied to a topic they care about.
"They're more willing to do the homework," Koscielski said. "They're not necessarily interested in their English class at their home school, but when we take that English credit and we make them read cookbooks and do homework assignments off of cookbooks they're more engaged."
Television also plays a part in Koscielski's lesson plans. Chef Ramsay, or his shows, is a frequent topic of discussion during class time. Students will be instructed to watch a particular show — one of Koscielski's favorites for teaching is Iron Chef — and then dissect the show the next day.
"One of the greatest tools I have right now is the Food Network," Koscielski said. "Students turn on the TV and they have an entire channel dedicated to cooking. The sounds, the lights, it gets them interested, it gets them going. I find the Food Network has helped my enrollment dramatically throughout the years."
When it comes time to pick the students who will be on the culinary competition team, Koscielski has put his class through months of intense training, held them to high standards and instilled in them a pride for their work. These high school students come into the competition with the respect of the college kids they hope to beat, said Boylan, who has been both on Chef K's teams and competed against him as a college student.
The college kids don't feel shown up when they get beaten by Batavia BOCES students.
"We all understand that chef is giving those high school students a different level of learning," Boylan said. "He really does give a college-level education. It really doesn't make too much difference that they're BOCES students. The material he gives them is what you would be learning in your first year of college."
Sometimes, though, even college students never learn the biggest life lesson of all, the one Chef K will pound on a stainless steel table to emphasize if he must. The lesson is perhaps the most common thread between Chef K and Chef Ramsay and anyone who aspires to master a craft: You've got to care.
"It's not about grade-point average," Koscielski said. "It's about passion. It's about having heart. It's having good attendance. It's being professional. That's what makes a good student."
And a good chef.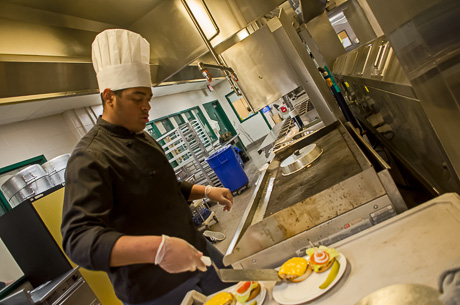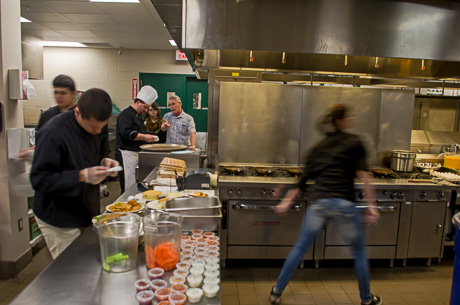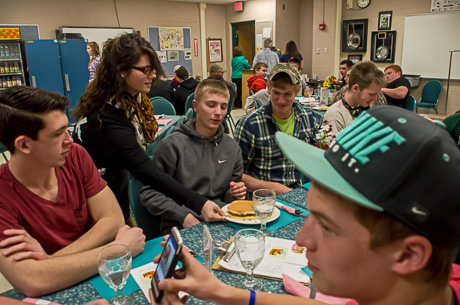 Facts about BOCES Culinary Arts
A career in a kitchen is a good choice, said Chef Nathan Koscielski, because "everybody loves to eat."
Until scientists learn how to create Star Trek-like food replicators, the world will need cooks.
It's also a career a young person can enter without necessarily taking on a lot of student debt.
Jobs that could be available to BOCES graduates right out of high school include:
Baker's Assistant
Breakfast Cook
Chef's Assistant
Dietary Aide
Health-care Cook
Pantry Worker
Line Cook
Waiter/Waitress
The BOCES brochure lists the following jobs and potential salaries in the culinary profession:
Pastry Chef: $35,000 and up
Banquet Chef: $40,000 and up
Sous Chef: $40,000 and up
Banquet Manager: $50,000 and up
Maitre d': $50,000 and up
Executive Chef: $70,000 and up
Food and Beverage Director: $75,000 and up
General Manager: $80,000 and up
Some of these jobs, at least to reach the upper levels of the pay scale, will require post-secondary education. Culinary schools in the region that have accepted BOCES students include:
Johnson and Wales
Culinary Institute of America
Paul Smith's College
Niagara Community College
Erie Community College
Le Cordon Bleu
Notable local graduates of the Culinary Arts Program at BOCES:
Bill Cultrara, head chef at the Genesee County Jail, former owner of Delavan's; education included Sullivan County Community College in Catskills and apprenticeships at the Greenbrier Restor in West Virginia and the Palace Hotel, Gstaad, Switzerland.
Hassan Silmi, executive chef at Alex's Place; education includes GCC and Alfred State.
So far, none of Chef K's students have become an executive chef or restaurant owner, but he said, "I'm sure someday there will be."