June 7, 2013 - 10:30pm
Collins believes something should be done to help farmers with labor, but doesn't support 'path to citizenship'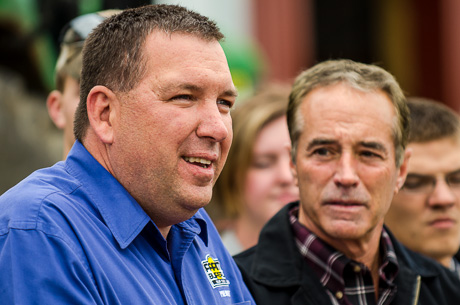 House Republicans are staunchly opposed to one element of an immigration reform bill -- a path to citizenship -- that some supporters think is critical to its passage, Rep. Chris Collins said today during an event at Post Farms in Elba.
"As a country that was founded on the rule of law, the first action that these adults took in coming into this country was to break the law, so a pathway to citizenship will not come out the House Republicans," Collins said.
The immigration reform bill is the result of hundreds of hours of negotiations between farmers and the farm labor community, which wants to see people who have been working the the United States for years, although illegally, have a chance to become citizens.
While Collins doesn't support allowing such individuals to become citizens, he said he doesn't see a problem with allowing them to obtain permanent work status.
"Call it a blue card," Collins said. "We're fine with making it so that workers who are now here illegally are stay here legally. Make it so that they can go home and visit their families and come back and we know who they are and where they are and that they pay taxes."
Dean Norton (left in photo), said that if the House Republicans can't be brought into the fold, we could wind up with two versions of immigration bills that will go to conference committee. Losing the path to citizenship will be a disappointment to some members of the coalition who worked on the bill, but he thinks when it comes down to it, both sides need some sort of reform to pass.
"I've got to believe in my heart that once we get people sitting down at the table, they won't do anything to scuttle reform," Norton said. "It's too important to the country and to our food supply."
Collins did say he supports citizenship for the children of workers here illegally.
"This is the country they know and love," Collins said.
I am totally in agreement with you, Howard.
This kind of rhetoric from Collins is one of the biggest reasons why I have disliked him. Mind you, I've tried these past few months, but this kind of party line garbage is the stuff that makes me ill.
That is the biggest problem we have. It doesn't take a person with a PhD in Government Systems to see clearly that we have one of the most bloated and ineffectual immigration processes out there, yet Collins would fight this so that Republicans can what? Appeal to their base? Appease some ridiculous poll?
How about this. Fix the damn system, so it works correctly, and you will see a massive drop in "illegal" immigration.