May 25, 2013 - 9:55pm
Collins presents medals to family of late WWII vet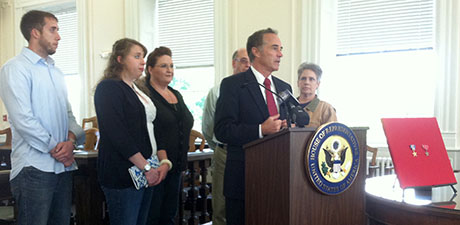 Press release:
Congressman Chris Collins (NY-27) honored the late John Chase, a World War II veteran from Batavia today by presenting his family members with the medals he earned in service.
"Today I am proud to pay tribute to John Chase, a man who fought for and defended the freedom of our county so bravely during World War II," Congressman Collins said. "I am humbled to present his family with the medals he earned during his time in the Army and want to thank him posthumously for his distinguished service."
Alongside members of the late John Chase's family and Chairwoman of the Genesee County Legislature Mary Pat Hancock, Congressman Collins shared how John Chase was drafted into the Army, fought in the battle of Rhineland in 1945, and received a Silver Star for his actions.
As John Chase grew increasingly ill, his family reached out to Congressman Collins' office and asked for help in securing a new medal. In the process, Congressman Collins' office discovered John Chase also qualified for a Bronze Star, which he had never received.
"I am very proud of the sacrifice my father made to fight for his country. Replacing my father's Silver Star and finding out that he qualified for a Bronze Star has meant a great deal to our family," said John Chase's son, David. "I thank Congressman Collins for helping secure the medals my father earned and for giving us the opportunity to honor his service."
Congressman Collins honored John Chase on Wednesday by sharing his story on the floor of the House of Representatives, and thanked all of our nation's veterans for their service.