May 7, 2014 - 9:37am
Company pitches idea of plant that converts food waste into energy at planning board meeting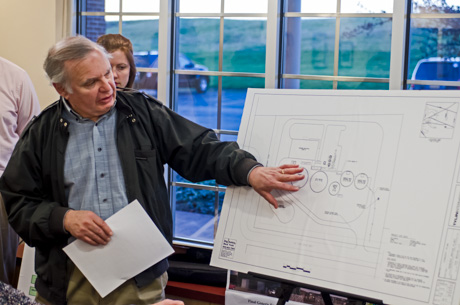 A company with roots in New York, but currently based in Connecticut, is looking to build a plant at the Genesee Valley Agri-Business Park that would convert food industry waste into heat and electricity.
"We make green power out of organic waste," said Paul Toretta, CEO of CH4 Biogas, while presenting his company's plans to the Town of Batavia Planning Board. "Once the digester does its thing, it captures methane and powers an engine that makes green power and puts it on the grid. The engine produces heat that can be used to heat Quaker Muller and Alpina, helping them cut their heating bill."
The cost of the plant is $15 million and CH4 has already secured a $2 million Cleaner and Greener grant from NYSERDA to help fund the project, but is looking to the state for more help.
Toretta said state officials recommended the company present its proposal to the town planning board because the state wouldn't get behind the idea unless it has community support. The state backing would help the company secure bank loans to completely finance the project.
"We're in a holding pattern while looking for help with funding," Toretta said when asked about the timetable for the project.
Once funding is in place, the plant would take nine months to build. The design is already completed because it's the same design used by the company for plants in Wyoming County and Ohio (for Campbell's Soup).
"We only build one plant," Toretta said. "It's the same plant over and over again."
CH4 would use local contractors to build and maintain the plant, which would eventually employ eight people full time, Toretta said.
"When you put that much concrete and steel in the ground there will be a number of people employed," Toretta said.
The plant would be expected to last at least 30 years.
"The project is upfront capital intensive," said Toretta, who is originally from Potsdam. "It takes 15 years to return the money invested to do this. It's a slow, steady project. You borrow money and it takes 15 years to make any return."
CH4 already processes whey and other waste from the Alpina and Quaker Muller (no whey comes out of the Muller plant) in Wyoming County.
A plant in the ag park would reduce transportation cost and the impact on the environment to truck it more than 20 miles away.
The plant would also help the Genesee County Economic Development Center attract more food processors to the ag park, Toretta said.
Chris Suozzi, GCEDC's VP for business development, agreed.
"It would complement what we're already doing," Suozzi said. "It would definately help with the marketing when you have a green ag park. What better way to market the park and bring in more companies?"
The plant would be set up so it could take any sort of organic food waste, including waste from products that were already packaged but were found to be defective in some way so couldn't be shipped to customers. Toretta said the plant could separate the food waste from the packaging and then recycle the plastic or metal containers.
The plant would produce very little waste itself, but what it did produce would go into the local sewer system, but with much less biological chemicals and suspended salts than could otherwise go into the waste stream.
The plant would also produce little in the way of odor, which is important to Alpina and Quaker Muller because the plant would be upwind from those facilities.
"If there was any type of odor, as you can imagine, Campbell Soup would not allow us to operate our plant there," Toretta said.
what's not to love? At the risk of being a broken record, I've wrote or said at least 100 times, if the gub'ment doesn't stop picking and choosing who gets to pay less taxes and who has to pay more. It will never stop, only continue to get worse, more will demand a break and less of us will pay even more. Here's a favorite position of the lefties from a self-described progressive site, and I couldn't agree more. Across the nation about 92 billion was passed around through corporate welfare, while around 59 billion was spent on social welfare. Nearly twice as much (45% or so). But we hear from the commenters on here loads of negativity about the welfare people, that's Ok I guess. Personally, I'm not in favor of either, but let's get some proper focus. A friend of mine had a great idea, stop allowing taxes to be placed in escrow accounts and paid by the mortgager, everyone gets the bill and has to pony up directly. Landlords would have to break out the tax portion on the rental statements. I'm sure then there'd be a lot more if what you all think is negativity.