October 9, 2012 - 10:16am
Court clerk in Corfu files harassment complaint against village justice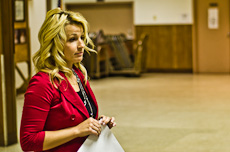 Some time within the next couple of days, Corfu Justice Robert Alexander will receive a letter from the Village of Corfu Board of Trustees reprimanding him for allegedly harassing and intimidating his court clerk.
Pamela Yasses, who has clerked for Alexander since September 2011, lodged a formal complaint with the trustees at the board's regular meeting Monday night.
The complaint has its roots in how Yasses came to be court clerk in the first place: as a replacement for Brandi Watts, the daughter of Alexander, who was dismissed from her job after it was determined she couldn't work for her father as a clerk.
During this same period of time, a state audit of court records found the court is potentially missing as much as $30,000 in funds received as fines or bail money.
The Judicial Review Commission is reportedly investigating the matter.
Alexander has not responded to an email request for a comment on the complaint filed by Yasses.
According to the account given by Yasses on Monday, shortly after being hired by the trustees, she was asked by Alexander, who is her direct supervisor, to conduct an internal audit of court financial records.
At the same time, Alexander sent a letter to all village residents saying the accusations of financial irregularities could easily be refuted, but "I refuse to lower myself to such tactics, and even much worse by doing so in the news media."
Instead, Alexander announced that he ordered Yasses and then part-time clerk Tom Ingram to conduct an "objective investigation and document the truth."
He promised to release the results no matter what the outcome.
Yasses said Monday night that the internal audit was completed in March and she found evidence of missing funds that "paralleled" the state's findings.
A substantial amount of money is missing, she said, and new evidence continues to emerge of possible misplaced funds the longer she's on the job.
Alexander never released the audit results to village residents as promised, according to the conversation during the meeting.
Instead, according to Yasses, he has tried numerous times to contrive ways to force her out of her job.
"His treatment and attitude towards me has shifted, becoming intimidating, and quite frankly unacceptable," Yasses said. "The continual threat of forcing my resignation or possibly firing me is not something that should be tolerated. I do believe what I am experiencing is classified as harassment."
As a personnel matter, Yasses could have requested her case be heard in closed session, but she said she preferred to address the matter publicly.
While Alexander supervises the clerk's position, the clerk is an employee of the Village of Corfu and only the trustees have the power to terminate her employment, according to village attorney Mark Boylan.
While Alexander has allegedly ordered Yasses on numerous occasions to not communicate with trustees, Boylan said the judge doesn't have the authority to prohibit the clerk from talking to the elected officials who pay her wages.
Though Yasses said Alexander has allegedly harassed her since she completed the internal audit, things apparently came to a head about a month ago after Yasses agreed to do a favor for a Corfu police officer by mailing out a traffic ticket to a citizen.
While it's unclear whether Yasses used an envelope with with a Village of Corfu Court return address, Alexander has accused her of using such an envelope.
Yasses read from an email she said she received from Alexander about the matter:
I'm contemplating what action I am taking about the gross violation of the issue with Officer Retzlaff's ticket. The powers that are in charge are researching whether you committed a violation of the law or just a gross violation of ethical issues in the matter. Hopefully, we'll have the reply by this week or early next week and I will then decide what I am going to do as it applies to your removal from the clerk position, given a chance to resign, or other less drastic measures to see that you never do such an egregious violation.
Boylan told the trustees that the village is facing a potential lawsuit and needed to take action to protect Yasses from Alexander.
"There needs to be a letter, some sort of written admonishment from this board to the judge instructing him to cease and desist his activities," Boylan said. "He cannot continue to conduct himself in this manner. Clearly, this is harassment and clearly this board has an obligation to protect its employee, to safeguard her."
If Alexander fails to comply with the board's request, Boylan said the board could begin proceedings to remove Alexander from office. He said the procedure isn't easy and would take some time.
Out of concern that once Alexander finds out about the complaint lodged by Yasses, but before he receives the letter, he will harass Yasses further, the board agreed to give Yasses a week off with pay. However, upon discussion, it was determined certain court tasks must be completed this week, so she was instructed to only come into the office at times when other employees or trustees are present.
Trustee Art Ianni several times asked Yasses if she understood what she was taking on by bringing a complaint about an elected official to the board.
"This isn't a hot dog stand," Ianni said. "Just because you don't like the guy who puts the mustard on the roll doesn't mean we can get rid of him."
Regardless of how difficult it might be to remove Alexander from office, Mayor Todd Skeet said that as employers, the board needed to ensure employees were protected from a hostile work environment.
"One of the things I think I should say as mayor is that everyone of our employees should come to work happy and go home happy," Skeet said. "If I put myself in Pam's shoes, I'd be pretty unhappy."
October 10, 2012 - 3:14pm
#8
This is a good example of why all municipal judges, including town and village justices, need to be practicing attorneys. These sorts of shenangins largely have their basis in a lack of knowledge in the law on the part of the town or village justice, who in New York only needs to attend a 2 week training course and pass an exam, and the lack of consequences that could occur because of judicial malfeasance. Unless it's proven that he committed a crime, Judge Alexander has nothing hanging over his head except for losing a village judgeship, but a practicing attorney could possibly face disbarment or suspension of their law license due to misconduct. Not to mention that a lawyer would by profession actually understand the law. Of course, there are great town and village justices who are not attorneys, but the widespread and alarming accounts of injustice that occur in small towns and villages all over New York by justices who have no serious legal training (no, the current training is not serious) or professional recourse are too much to ignore. Would you want an accountant performing minor surgery after a 2 week course and an exam?
This provides a pretty good explanation: