May 30, 2013 - 9:16pm
Cuomo pitches 'tax free' at GCC, a campus that might be well suited for the program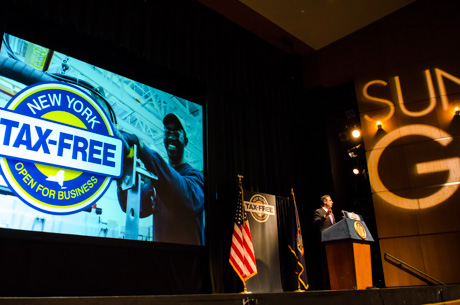 Genesee Community College sits high on a hill surrounded by a lot of open space.
Gov. Andrew Cuomo visited GCC today to promote his "New York Tax Free" proposal, which would allow SUNY campuses such as GCC to play host to new businesses or businesses that are creating new jobs.
Up to 200,000 square feet of land around a SUNY campus could also be used for the 100-percent-tax-free zone.
All that open space around GCC, then, might also be described as opportunity.
"That was the vision 10 years ago that we started developing with GCC and Dr. Steiner and now Dr. Sunser," said Steve Hyde, CEO of GCEDC. The agency now has offices across the street from the college campus in what's known as the Upstate Med-Tech Center. "I think we're really well positioned to rock and roll together and really make a difference here."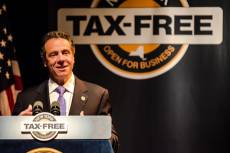 Cuomo is clearly passionate about his proposal.  Whatever its critics might have to say about it, Cuomo has an answer and at times during his speech and afterward made his points with the fervor of an evangelist for Upstate New York.
Cuomo:
Nobody ever said (speaking of those who have left New York), I didn't like New York or I didn't like Upstate New York. Nobody.
We did this (mess up the state and cause 50 years of decline) to ourselves. We did this to ourselves because this state has every asset imaginable.
I spent eight years in the Clinton Administration. I worked in every state in this nation, literally, dozens and dozens of times. I know everything else that's out there. I've seen the best that every state has. No state has to offer what we have to offer in New York. No state has our combination of talents.
Our geography, our diversity, our history, the most beautiful natural resources, mountain ranges, the greatest cities, beaches, we have it all, all in one state – the best of everything with the distillation of the best of America -- in one state called New York.
So it's not that that they're beating us. We're beating us. We created these conditions. We can reverse these conditions. Reduce the taxes. Make this state as competitive as any state out there from a tax point of view.
"NY Tax Free" would turn SUNY campuses into zones with no state or local taxes of any kind for businesses based on the campuses (or in the 200K zone), and a company's employees, for up to 10 years.
The businesses would have to match the educational mission of the host campus, working in industries of related fields of study.
Cuomo's dream is clearly to incubate the next Apple or Google.
"If you look at the places that are creating jobs, it's the higher education institutions that are doing research and development. It's the 28-year-old who develops the new chip or the new iPhone of the new application, but the schools are actually creating the jobs."
These sorts of companies are getting founded on NY campuses now, Cuomo said, but 75 percent of them leave New York within the first year, taken either by founders or investors to lower tax states such as Florida or Texas.
Yes, the proposal is big and bold, Cuomo said. No other state in the nation has ever dared to take on such an audacious project, but New York does big and bold well, Cuomo said (while a picture of the Erie Canal was projected on the screen behind him).
Big problems, he said, require big solutions.
"People have been leaving," Cuomo said. "Jobs have been leaving. At the same time, we have more and more government and the costs of governing are going up and up while there are fewer and fewer people to pay for the increasing cost of government, which makes taxes higher, making the tax burden higher, which causes more people to leave. That's the dynamic and the longer the dynamic continues, the worst it gets."
Upstate, especially, needs the help, Cuomo said, and with 55 of the 64 SUNY campuses located in Upstate, and 95 percent of Upstate residents living within 30 miles of a SUNY campus, this proposal makes a lot of sense.
In the past several years, there has been only a 5-percent increase in new jobs in Upstate, while New York City has grown jobs at a clip of 16 percent. The 5-percent growth rate doesn't even keep up with the national average.
The proposal would create 120 million square feet of entrepreneurial space in Upstate, Cuomo said, which is more commercial space than in San Francisco and Philadelphia combined, and more than Buffalo, Rochester and Syracuse combined.
Speaking with reporters after his speech, Cuomo said the major criticism he's heard of the proposal is that taxes should be lowered to zero for everyone.
"It's the right idea to have zero taxes across the board," Cuomo said, "but there's some problems with the details."
If the proposal seems unfair, Cuomo argued that the current tax system is unfair.
"There is not a level playing field in the current tax code," Cuomo said. "The more you make, the more you pay. Some businesses get tax breaks that others don't. We have tax breaks for manufacturing. Why? Because we decided we want manufacturing businesses here. We have tax breaks for the film business ... because we want to produce movies here. It's a falsity that the tax code is equal, but for this. The tax code is anything but equal."
He also argued that residents around SUNY campuses will benefit from the job creation, with employees of these companies buying groceries, cars and houses locally.
"There will be economic activity in your community and that will be a good thing for you," Cuomo said.
He added, "We can't sustain what's going on now in Upstate New York. We cannot sustain the population decline. Nobody moving in. Everybody moving out. Fewer and fewer people paying the cost of a growing government.  We cannot continue the trajectory we've been on."
"We cannot sustain the population decline. Nobody moving in. Everybody moving out. Fewer and fewer people paying the cost of a growing government." There you go governor, step number one, reduce the size of government. If the populace is shrinking, why do we need a growing government to sustain it? When New York is booming again I'm sure our government will have no problem expanding to fill the need.
Jeff, because he is a liberal.. They want your money and want to tell you how to spend it. It's not a Democrat or Republican thing.. It is a liberal vs Conservative/Libertarian thing.