June 18, 2013 - 2:36pm
CY Farms grew from the good land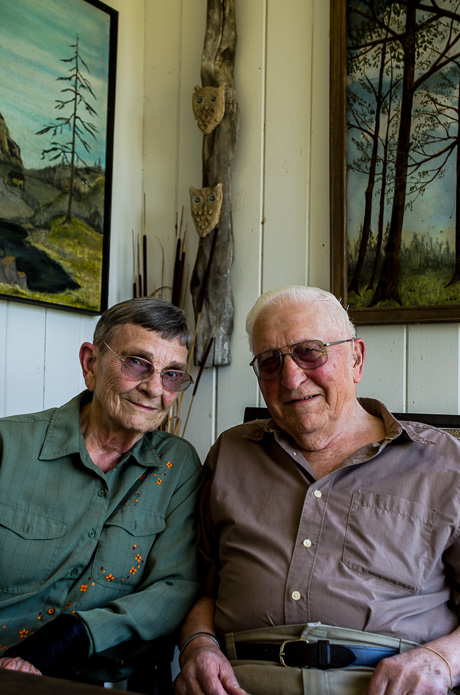 The third in our series on Genesee County farms and farmers.
The house was ramshackle. There were broken doors and windows that wouldn't close, but the land was good. Carl Yunker knew it was soil he could grow something in.
"I was after the dirt," Carl said. "I said, 'if I got the dirt, I'll get the rest.' This is good land."
He couldn't buy the 200-acre farm and its 30 cows, but he could lease it. He moved his family from Sheldon to a house without plumbing in Elba. It was 1951. The house was more than 100 years old. The Yunkers, married in 1947, and with two young children, would put down roots near the intersection of Transit and North Byron.
Bernice went from cooking with gas to a wood stove in kitchen with warped floorboards.
That first Thanksgiving, she was expecting 17 people for supper. The night before, a cat crept in through the broken door from the cellar into the kitchen and feasted on turkey breast.
The day after Thanksgiving, Carl built a new cellar door.
In the kitchen, paint was peeling from one wall. Bernice drove into Batavia and bought the largest Rand McNally map of the United States she could find. She bought a series of smaller state maps. She decorated the wall with the maps, she said, so visitors would discuss the state of the union rather than the state of the house.
"I said if she lives with me for a year, she will stay with me for good," Carl said.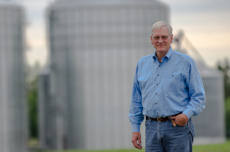 Craig Yunker
Craig Yunker, the Yunker's second of five children, was born in 1951 in Sheldon. He was raised in the house on Transit Road.
Today, the house that was falling apart 61 years ago, is now the home of Craig and Kimberly Yunker. 
It's fully restored, of course. Inside, the walls are white and the floor polished hardwood. Left exposed are structural beams that were hand hewn in the 1820s by strong men with axes and chisels.
Carl, who turns 90 next month, lives with Bernice in a farmhouse built in 1900. When the Yunkers first moved to Elba, the Merrimans, who farmed the land before the Yunkers, lived in the newer house while the Yunkers lived in the older house. After Carl and Bernice moved in, Bernice wanted a little storage room at the back of the house fixed up to use as an artist studio.  Carl expanded the room and added a second level, giving Bernice all the space she needed to paint and draw and display her work.
When Carl and Bernice met, she was a preacher's kid in Sheldon. They saw each other for the first time in the foyer of a church.
"When I saw him, he was sort of looking me up and down one Sunday when I went into church and I thought, 'you young snip, you,' " Bernice said. "I thought he was 17 years old and he was 25."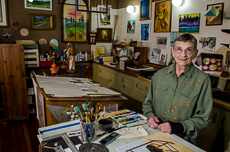 Bernice Yunker
Bernice knew nothing about farming when she met Carl, but she's proud to call herself a farmer's wife. That's the name of her studio -- Farmer's Wife Studio -- where she paints and teaches art classes.
Bernice has been a member of the Genesee County Art Society for more than 50 years. 
Her favorite subject is trees. She paints and draws a lot of trees. Well, she paints and draws a lot. Carl said she's a workaholic when it comes to art. When she has five minutes, he said, she's in the studio working on something.
Bernice has completed thousands of pieces of art. Earlier this year, she threw out about 700 of her paintings.
Living on a farm, Bernice said, her children learned the value of work. The boys started working in the barns when they were 7, getting paid for their work. By the time they were 12, they were buying their own clothes.
"I don't see how the city people to it," Bernice said. "These boys were never under my feet because they were working."
After all that farm work, Craig wasn't sure he wanted to be a farmer. His mother dropped him off at Cornell University for his freshman year and that's when he told her, he wasn't sure he wanted to farm.
He read Jack Kerouac. As Dean Moriarty took to the road, so did Craig Yunker. After the first semester of his second year at Cornell, Craig  left on a six-month ramble across America. He drove a 1963 Chevy. He packed  a Mamiya/Sekor 1000 DLT camera. In Las Vegas, his car was done and he was out of money. He managed to make it to California and spent some time at a commune before returning to New York.
He came home and went back to Cornell. Craig has a degree in agricultural economics and a master's in resource economics.
Carl had gone from tenant farmer to farm owner in 1963. When Craig came home, father and son became partners.
All of Craig's siblings found pursuits other than farming. Gail, the oldest, lives on a boat north of Seattle. Chris, three years younger than Craig, is a military man and lives in Virginia. Joy lives in Troy and Heidi lives in Medina.
CY Farms is owned today by Carl, Craig, Craig's son, Christian, and P.J. Riner, who is now retired but for years handled the day-to-day operations of the farm while Craig managed the business and CY's growth.
What started as a 200-acre tenant dairy farm is now 6,000 acres of turf, corn, wheat, soybeans, alfalfa, onions and green peas.
How CY transformed from a small dairy farm to one of the largest crop farms in WNY is as much a story of persistence and hard work as good fortune, Craig said.
"I'd like to be able to tell you that I had everything planned out, but some things just happen," Craig said. "Our success is sort of a hybrid of luck and timing with some hard work thrown in, but a lot of it is just luck."
The big turning point came in 1986, when CY Farms was a 400-acre operation with 300 cows.
The federal government decided the country was awash in dairy products. The USDA wanted fewer cows and fewer dairy farms. The government set up a reverse auction -- farmers would set a price for their herd and the government would start with the lowest bid and buy up more and more herds at higher and higher prices until the target number of cows were purchased.
If farmers put in a bid, they obligated themselves to destroying their cows or exporting them to a foreign country.
"We submitted a fairly high bid and I was fairly confident that we wouldn't get taken," Craig said. "We only bid it because it's just one of those things where everything has it's price, so we said let's put in a number high enough that if we get taken we'll be happy. We didn't expect to get taken and we did. We were surprised that our bid got accepted, but we had already signed it so we had no choice at that point."
The Yunkers had a year to dispose of their herd. By contract, they couldn't produce milk for five years.
The story continues after the jump. Click on the headline to read more.
They were left with 400 acres of land. As Carl said, good land. Good soil. You can grow things in good soil, things like corn and peas and cabbage.
"I thought at that time, maybe we'll get back in the dairy business, but we never went back to milking cows," Craig said.
Carl Yunker made the right decision in 1951. He came to Genesee County because he thought the good, flat farm fields of Elba would give him more flexibilty as a farmer than the hill country around Sheldon.
Without cows, CY Farms became a crop farm and began to grow.
Carl was also working on his own plan. By age 65, he wanted to start backing out of the business and handing over more control to Craig.
Too many farmers, according to Carl said, don't have a plan for handing their farms off to their children.
"That's one of my big criticism of family farms where dad hangs on so long and doesn't give the younger generation the opportunity to develop themslves and move on," Carl said.
Family farms that cease being family farms have meant opportunity for the Yunkers.
There was, for example, a 900-acre farm -- including muckland -- that fell into the hands of four brothers. Four feuding brothers. The brothers sold off their farm equipment and leased the land to CY Farms.
Craig knew better than to sit all four brothers in a room and try to buy their land.
"If one guy liked this deal the other guy wouldn't like the deal because the other brother liked the deal," Craig said.
He was patient. He stayed friendly with each brother.
"It took, I think, two years, but I got that deal," Craig said.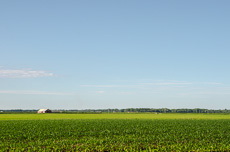 Mucklands
It was a big deal. Too big for CY to handle on its own. To help finance the purchase, Craig sold off some of the land to a neighboring farmer.
The purchase included muck, good onion-growing muck. CY Farms added onions to their product line.
Next, they added grass.
Perhaps the biggest deal for the Yunkers was the purchase of Batavia Turf. Initially Craig was just interested in acquiring more crop land. Tony Peca owned 600 acres of farmland. Craig was thinking about the land, not the business.
Peca started Batavia Turf in 1960 and it was the original turf farm in New York. When the Thruway was constructed through Genesee County, part of the deal was Peca could keep his billboard next to the I-90. Batavia Turf has the only billboard in New York on Thruway Authority property.
"(The business) was very well known," Craig said, and as he dug into the particulars of the deal, he realized it would be a good thing to buy not just the land, but the business.
"We looked at it as an opportunity to expand," Craig said.
Peca's two sons signed on as Yunker employees to oversee turf production and manage the marketing for two years. They were paid above-average salaries, Craig said, to help the Yunkers break into the business.
"We didn't know anything about growing turf and we didn't know anything about marketing turf," Craig said.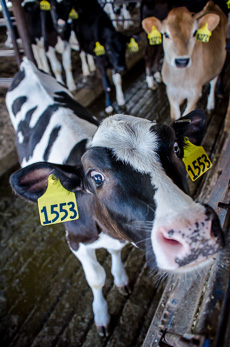 Calves at CY Heifer Farm
The Yunkers, of course, as former dairy farmers, do know cows, and in a different way, the next CY Farms expansion got the family back into the dairy business. Rather than milk cows, they raise them for area dairy farmers.
The opportunity came to the Yunkers when Agway let one of its business units fall into bankruptcy.
A few years before, Agway managers decided one of the secrets of success for dairy farmers in California was the replacement heifer business. Rather than dairy farmers raising their own calves, there are whole farms that do nothing but raise calves for other farmers. Agway thought that might be a good business line in WNY.
The company picked land owned by CY Properities for the operation. Raising calves means manure. Manure means noxious odors. Cow odors can cause complaints from nearby residents. The Yunkers owned a plot of land just southwest of the mucklands. Up on a ridge, overlooking the onion fields, a bit isolated from residential neighborhoods. The wind carries odors away from any homes in the area and out over the farmfields. It seemed like a smart spot to raise calves and convert manure into plant food.
CY Heifers takes in calves from about 10 dairy farmers in the area. As they grow, they move through a series of barns according to size and age until they're old enough to be moved back into the farmers production herd. The dairy farms can concentrate on milk production rather than raising their own calves.
The 6,000 acres of CY Farms is divided among 60 or so parcels in Elba, Byron, Batavia and Stafford. All of the land is owned by CY Properties, which leases land to CY Farms, Batavia Turf and CY Heifers.
Each business unit operates on its own P&L (profit and loss statement), but farm equipment and employees are shared among the operations.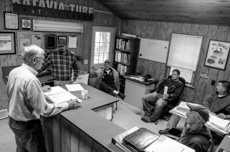 The morning managers' meeting
It takes a lot of coordination to manage the crops, the land, the equipment and the people (just under 50 employees total). Each morning at 6:30, Craig Yunker and the farm's five managers meet in a Mid-century ranch home that has been converted to office space on the southeast corner of Transit and North Byron. 
Meeting with Craig every day are Christian Yunker, Charles Augello, Chuck Barie, Mac Ewell and Mike Riner.
First topic each morning: The weather. Cold, rain, wind and sun -- whatever the elements -- will determine much of the work schedule for the day.  It's hard to plow a field when it's muddy and darn near useless to spray pea plants in the wind.
"Everything starts with weather and then you plan your day," Craig said.
The morning meeting is a time to balance priorities against available resources. There's usually more work than hours in the day or feet on the ground.
"There are five us every morning judging who needs what tractor, who needs what truck, who needs what personnel or this or that, and sometimes, you know, something has to wait," Craig said. "One man is going to be frustrated because he's got his plan, but there aren't enough tractors, trucks and people to do everything."
What crops are grown each season is planned out up to a year in advance.
Craig and his team make a P&L for every crop they grow.
"Each crop is analyzed on its own for its own profitability," Craig said. "If crops are not profitable in one year, that's normal, but if it's a trend and they stop making us money, then we stop growing them. We did that with tomatoes."
This year, you won't find any cabbage growing on CY property.  When the management team analyzed the potential for cabbage, two problems loomed large: The Affordable Health Care Act and the difficulty in hiring migrant labor.
Cabbage may grow again on CY Farms, but first Craig said he needs to be assured that employing more than 50 people won't drive up the cost of health insurance and he needs to know he can hire legal workers that won't get swept away in immigration raids.
Solutions to those problems, if there are any, will only come out of Washington.
Then, there's the price of corn. Last year and this, corn prices have hit historically high levels.
Craig's office is dominated by a large wooden desk. He has a bookshelf and filing cabinet. On one wall are original color pen-and-ink drawings by Don Carmicheal of the Old Courthouse and County Building #1, momentos of Craig's tenure as chairman of the Genesee County Legislature in the 1980s.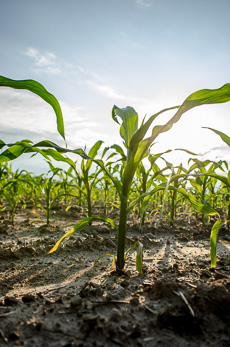 Corn
On the back of door, Craig keeps a poster of corn prices.
For more than 100 years, it shows corn prices fluctuating in a fairly nominal pattern, then there's a big spike -- prices climbed above $5 a few years back -- then prices returned to a fairly normal level.
Craig points to a spot off the chart and says, "now prices are here."
That would be somewhere over the $6 mark.
Six-dollar corn is another reason not to grow cabbage.
Last year's drought in the Midwest and this year's flooding in the Eastern Corn Belt have been good things for WNY corn growers.
"Last year we got prices higher than we ever expected and we had a very good year because of that," Craig said. "We forward-contracted our corn and sold a good portion of the next year's crop."
Near the corner of Route 262 and Ivison Road are a half dozen storage bins that glisten in the sun. They're made to store feed corn. Cabbage is a perishable crop and must be sold close to harvest. Corn can be stored much longer.
"The idea is to sell it when it's profitable and not when you have to sell it," Craig said.
Onions are a crop that must be sold at harvest, too. It's one of the most challenging crops CY Farms grows. Out on the muck, farmers battle wind, rain and weeds. It's no different for the small muck farmer or the big muck farmer. 
The demand for onions doesn't change much year to year.
As Craig put it, a restaurant isn't going to buy more onions just because the price drops. If the price is high, it doesn't suppress demand.
That can make growing onions at a profit a challenge.
Which is why Craig thinks CY Farms has an advantage with its 6,000 acres and more than half a dozen crops it grows. Farm managers can rotate crops, react to changes in the market and the weather and absorb, in most years, unexpected price fluctuations.
"One of the advantages we have over somebody that just grows onions is that diversity and that stabilizing effect," Craig said.
The production numbers for CY Farms in a typical year are impressive:
Corn -- 3,000 acres at 146 bushels per acre
Wheat -- 700 acres at 75 bushels per acre
Onions -- 100 acres, at 650 50-lbs bags
Soybeans -- 700 acres, at 44 bushels per acre
Alfalfa -- 1,000 acres at 12 to 13 tons per acre
Barley -- 40 acres at 60 to 70 bushels per acre
100 acres of turf harvested per year
Batavia Turf grows more than 100 acres of grass per year, but it takes 18 to 24 months to bring grass from seed to sod, sliced and rolled onto pallets ready for delivery to customers from Pittsburgh to Watertown.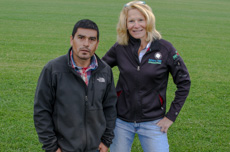 Jose Castanada and Katie Houseknect
With 5,000 acres available for crop rotation, the grass-growing business has benefited from being absorbed into CY Farms. One problem smaller turf operations run into is that with only a few hundred acres available, used year after year for the same crop, the sod is more susceptible to weeds and disease. 
Jose Castaneda manages the turf operation and Katie Houseknect and Chuck Hoover sell the grass.
"Jose makes it easy to sell a quality product," Houseknect said. "We do have the finest quality sod in WNY because of our quality soil. The emerald green color, the guarantee of quality, the fact that we can rotate our crop and keep the sod clean of any type of infestations makes it easy to sell."
The grass is 20 percent Kentucky Bluegrass and varieties of fescue. The fescue is more drought and disease tolorant than Bluegrass and helps Batavia Turf's sod keep its emerald green color even in dry summers.
Every day (except rain days) during the spring and summer, crews use a precision, computer-controlled grass harvester to cut and roll the turf. Grass is delivered to clients the same day or the day before it's scheduled for planting. 
Customers include homeowners, schools, landscapers, contractors and sports field owners.
Yunker is clearly proud of the role Batavia Turf has played in helping diversify the family business and add to its overall growth.
Running a big farm keeps Craig busy, but he still has time for himself. He's never lost his love of adventure.
In his office, behind his desk, is a large photo of a sailboat charging through the waters of Lake Ontario.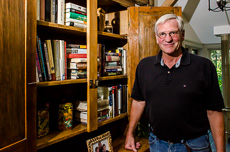 Craig Yunker with his Hemingway collection
Craig loves sailing. The man who once drove a '63 Chevy across America still loves to travel. And he loves Ernest Hemingway.
When Craig travels, he prefers to stay where Hemingway stayed.
Hemingway lived in Havana for a time, so Craig has been to Cuba.
When visitors enter the home of Craig and Kimberly Yunker, they find themselves first in a room with few pieces of furniture. There are a couple of paintings on the walls. To the back of the room is a floor-to-ceiling window that frames a green back yard. Yellow roses grow by the patio. On the south wall of the room, at the center of the house, there is also a cabinet filled books by Hemingway and about Hemingway.
Craig and Kimberly have three children: Christian, 33, Cyrus, 35 and Katherine, 31. There's a picture of their children with the Hemingway books.
Upstairs in the old farmhouse, Craig pointed to a wineskin hanging from a single nail pounded into one of the exposed, hand-hewn beams of a guest room. The wineskin is autographed. 
The skin is from Pamplona, Spain. Hemingway made many trips in his time to Pamplona. He wrote about the bullfights there. In "The Sun Also Rises" men drink wine from bota bags in Pamplona.
When Craig sojourned in Pamplona, he stopped in a shop to buy a wineskin. Craig spoke to his travel companion. He mentioned Hemingway. The shop owner exlaimed, "Oh, Ernesto!" The little man scurried to the back of the store and retrieved a photo. It was a framed print of the shop owner with Hemingway standing behind him while the shop owner signed a wineskin.
Next to the wineskin, hanging from that wooded beam is a photo of Craig Yunker standing where Ernesto once stood while the shop owner signed his wineskin.
"What do you like about Hemingway?"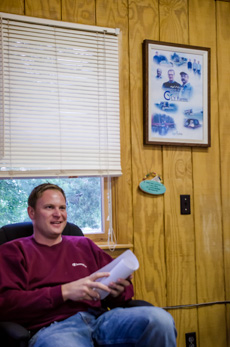 Christian Yunker
"His sense of adventure. He was his own person. He lived his own life. I like his style of writing. It's straightforward."
CY Farms is a big operation now, and Christian Yunker is next in line to run it. Like father, like son, Craig is giving Christian increasing responsibility for the farm over the years, just as his father did with him.
Christian is also a graduate of Cornell. After college, he worked in New Jersey for six years handling farm loans for Farm Credit East. It was good experience. It gave him a broader knowledge of what it takes to run a modern farm.
Like a lot of sons, Christian admires his father and thinks Craig has a real talent for the business.
"He has the ability to deal with people and negotiate deals," Christian said. "He's much more of a big-picture thinker. Most of his decision-making is about five, 10 years down the road, which for some people doesn't come as naturally as it does for him."
Christian has two young daughters -- much too young to know if they'll take to farming.
"I want them to be successful in life, so I'm not going to presume anything," Christian said.
Looking down the road, Christian said, perhaps they won't run the farm. Perhaps it will become an employee-run operation. It's too soon to say.
So these days, while little girls play and farmworkers work, one of the favorite pastimes of Carl Yunker is sitting on his porch reading novels and watching the traffic pass on Transit Road. Carl figures half the traffic is trucks and tractors owned by CY Farms.
He said he's proud of what the little farm in Elba has become. He thinks it will be around for a good long while now.
"I hope it keeps going successfully, and I'm sure it will," Carl said. "We've got a great team of people put together. People are the heart of an operation. You've gotta have good people or you don't have much."
June 19, 2013 - 9:00am
#1
Terrific story, Howard. Thank you!
Hey, Howard! Did anybody ever tell you that you should think about writing as a career? :)
Good work!