May 30, 2013 - 7:56am
Drivers tell different stories of accident on Creek Road that sent one to the hospital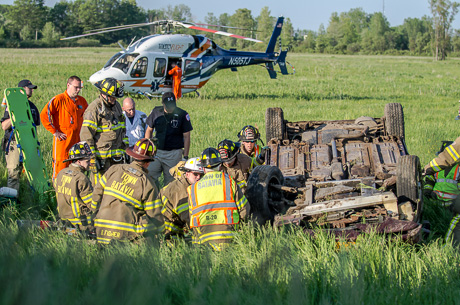 The driver of a car that was trying to pass another vehicle on Creek Road yesterday says the other driver sped up, preventing her from safely passing.
The driver being passed denies she sped up.
Both were issued citations following the two-car accident that cause one car -- the one being passed -- to fly off the roadway and overturn, pinning the driver's arm under the hood of the car.
Cindy Schwartz, 43, of Alexander, the driver of the car reportedly being passed, was taken by Mercy Flight to Strong Memorial Hospital where she's listed in satisfactory condition.
The other driver, 17-year-old Elizabeth Weber of Exchange Street in Attica, was uninjured.
Weber was northbound in a 2010 Kia SUV on Creek Road, according to Deputy Chad Minuto's report, when she attempted to pass a 2000 Chevy sedan driven by Schwartz.
According to Weber, Schwartz sped up.
Yesterday, at the scene, Minuto said there was an oncoming southbound vehicle that may have contributed to Weber's decision to try and get back into the northbound lane quickly.
When she did, her right rear fender clipped the left front fender of the Chevy sedan, sending it off the east shoulder and tumbling into a farm field.
A black Labrador was Schwartz's only passenger. The dog ran from the accident scene heading toward the woods far in the distance to the east. It was nowhere to be seen during accident operations and this morning dispatchers say they have no report of it being found.
The accident was reported at 6:48 p.m. and Town of Batavia fire responded to the accident along with Mercy EMS.
It took about 30 minutes for firefighters to extricate Schwartz. She was buckled in her seat, upside down in the vehicle with her arm outside the driver-side window and pinned under the roof the car. Firefighters used airbags to lift the vehicle so her arm could be freed.
Weber was cited under the vehicle code section 1122-a for allegedly returning to her lane of travel without reaching a safe distance from the overtaken vehicle and Schwartz was issued a citation for allegedly speeding up while being passed under section 1122-b.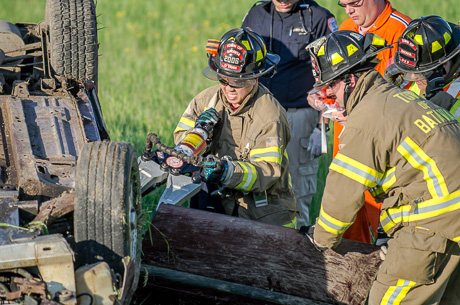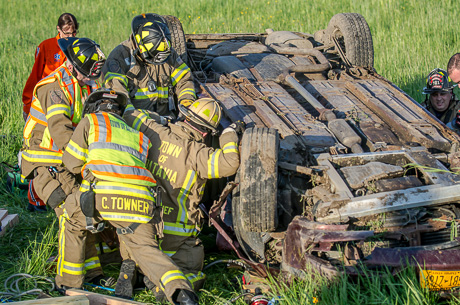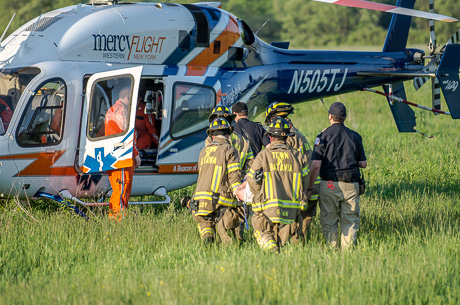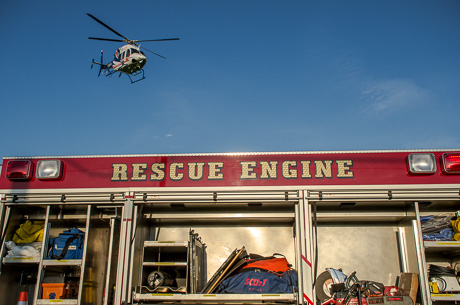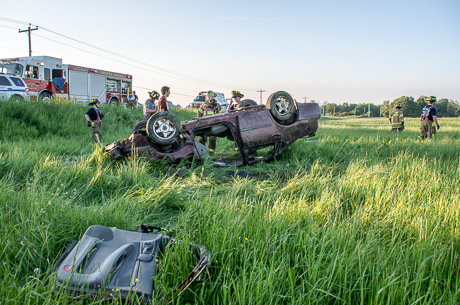 May 30, 2013 - 12:28pm
#2
Skip, ya know I at first thought that as well.... But if you think about it, if the driver she was passing also saw the oncoming car and didn't do the common sense thing and slow down to let her in then, that driver is as much at fault as well. I am thankful the driver with the dog did not have my grandson in the vehicle. I am gonna say knowing her personality I am not surprised to hear her accused of speeding up. Its not her first accident.