October 16, 2011 - 9:19pm
Employees of Batavia Lowe's told store closing, layoffs coming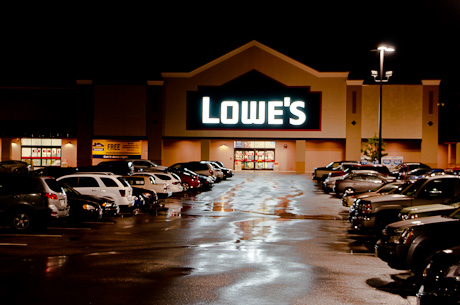 The 90 or so employees of the Lowe's store in Batavia were called in for a mandatory meeting Sunday night and told that the store will be closing.
While employees after the meeting said the closing date is set for Jan. 13, store Manager Ray Robare said there is "no sure, hard date" for the closing.
Starting tomorrow, every item in the store will be 10-percent off, Robare said, and the store will start operating on reduced hours. Tomorrow it will open at 7 a.m. and close at 9 p.m.
The employees we spoke with said there is a severance package available, perhaps as long as three-months pay, but the clock starts ticking on it tomorrow, even for those employees who finish out the final weeks of the store.
Robare said, however, that those details are still being worked out and, "it's something that tomorrow we'll start discussing with employees."
As for whether some employees, especially managers, might have job opportunities at other Lowe's locations, Robare said that's something that is still being worked out.
Robare said he couldn't discuss the reason for closing that corporate leaders might have shared with managers.
One employee said, "If I told you the real story, I might get in trouble."
The Lowe's location is leased and sits directly across Veterans Memorial Drive from The Home Depot.
UPDATE 9:26 a.m., Monday: Lowe's issued the following press release this morning:
Lowe's Companies, Inc. (NYSE:LOW), announced today the company is closing 20 underperforming stores in 15 states. Ten locations closed at the end of business Sunday, Oct. 16. The remaining 10 locations will close within approximately one month, following an inventory sell-through.
In addition, after completing a comprehensive review of its pipeline of proposed new stores, the company announced it has discontinued a number of planned new store projects. Lowe's now expects to open 10 to 15 stores per year in North America from 2012 forward, compared to a prior assumption of approximately 30 stores per year. The company is on track to open approximately 25 stores in 2011, as planned.
The expected financial impact of today's announcements of $0.17 to $0.20 per diluted share was not contemplated in the business outlook for fiscal 2011 which the company provided on Aug. 15 when it released its second-quarter earnings. Additional details regarding the impact of the store closings will be provided in the next quarterly earnings release on Nov. 14.
"Closing stores is never easy, given the impact on hard-working employees and local communities," said Robert A. Niblock, chairman, president and CEO. "However, we have an obligation to make tough decisions when necessary to improve profitability and strengthen our financial position.
"Lowe's remains committed to making strategic investments and focusing resources in a manner that will generate the greatest shareholder value, enhance the customer shopping experience and create sustained customer loyalty over the long term," added Niblock.
Approximately 1,950 employees will be affected by these closings. Employees will receive pay and benefits for 60-90 days. In addition, Lowe's will be working with local government agencies to help employees with outplacement assistance.
The stores affected by today's announcement are located in:
Los Banos, CA        Biddeford, ME        Old Bridge, NJ 
Westminster, CA    Ellsworth, ME    Batavia, NY 
Denver, CO    Ionia, MI    N. Kingstown, RI 
Aurora, IL    Rogers, MN    Emporia, VA 
Oswego, IL    Claremont, NH    S. Tacoma, WA 
Chalmette, LA    Hooksett, NH    Brown Deer, WI 
Haverhill, MA    Manchester, NH
October 16, 2011 - 10:10pm
#2
What has Howard been telling y'all? The chains don't give a shit about you, buy your lumber supplies from the Genesee Lumber Company. I have been assured it is still there just like when it was the only place to buy lumber. Home Depot is slimey too, and they don't care either. The truth is turds need to swirl down the drain and be forgotten. I've never forgotten Genesee Lumber Company because my Grandpa was a Carpenter, he built houses, stores and banks and I helped by being his constant sidekick. I feel sorry for Batavia today, your soul is having a problem shining through the mist.