December 20, 2011 - 5:45pm
Entrepreneurs saw Batavia needed a grocery store downtown, so they opened one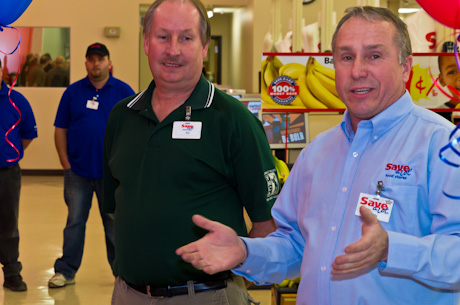 In a way, you can thank Walmart for the new grocery store downtown, which held its ribbon cutting today and will officially open Wednesday.
Co-owner John Hedlund (top photo, right) once owned a grocery store in a small town in Pennsylvania, then Walmart came to town. The giant retailer leveled a hill across the street from his store and within six months had taken away half his business.
After closing the store, he started looking for other opportunities in the grocery business, and with his desire to remain entrepreneurial and independent, the Save-A-Lot model appealed to him.
Hedlund converted his Jubilee store in Salamanca to Save-A-Lot and along with business partner Bill Larson now owns and operates four Save-A-Lot locations in Pennsylvania and New York.
Larson was owner of the former IGA store in Corfu.
"Walmart devastated me, but they also put me on a different track," Hedlund said. "The Save-A-Lot program is a great business to bring to a community."
Save-A-Lot is a mixture of corporate-owned stores and licensed stores, such as the new one in Batavia. The company operates 1,200 stores nationwide.
The Save-A-Lot model is to maintain low prices with a comparatively limited inventory and smaller stores -- Batavia's store is 18,000 square feet, which is large for a Save-A-Lot. The store also sells its own brands, such as Bubba's sodas, Malone's canned meats and Manita's pasta (names taken from actual people who work at corporate headquarters in Earth City, Mo.
"The Save-A-Lot format is to provide quality products at lower prices," Hedlund said.
Larson (top photo, left) said the produce and meat offered at Save-A-Lot are always fresh and of the highest grade available.
Victor Gautieri's family company owns the former Jubilee/Latina's building -- between Jackson and Court streets on Ellicott Street -- where the new store is located. There are still 22,000 square feet available for lease. Gautieri said he hopes it becomes a retail hub for downtown anchored by Save-A-Lot.
"From the word on the street, we're hearing people say this is a godsend for Downtown Batavia, " Gautieri said. "And we're finally getting this white elephant off the shoulders of the city."
Outgoing City Council President Marianne Clattenburg said, "We're very happy in the City of Batavia to finally have another grocery store downtown."
More than a dozen customers were in the store after the ribbon cutting to check out what it has to offer and buy a few items.
"I like it because I used to drive to Save-A-Lot in Le Roy, but that's too far to drive," Carla Laird said. "And it's hard to get to Tops a lot of times."
Billie Jo Laird said, "It's great for people who don't have a car and can't drive."
Hedlund said it's the goal of his company to help the communities they serve to thrive.
"The downtown area was missing a grocery store and it needed a grocery store," Hedlund said. "This is a great opportunity for us."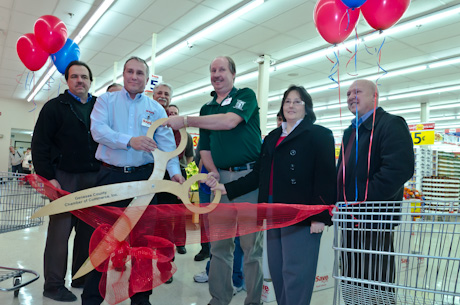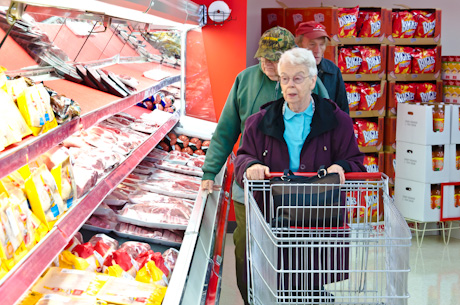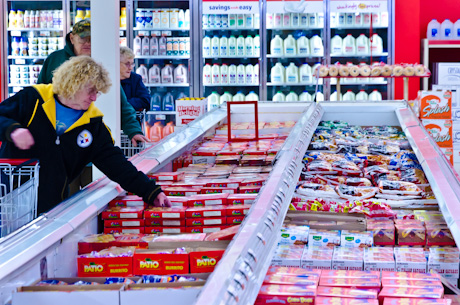 December 21, 2011 - 9:43am
#1
So sending local dollars to Benton, AR is bad but sending local dollars to St. Louis, MO is okay? What about sending them to Batavia, IL? It could be a sister city program.
December 21, 2011 - 9:52am
#2
Kevin,
No matter where you shop a certain percentage of your purchasing dollar goes somewhere else. It breaks down to pennies that go to manufacturers; wholesale distributors; growers; transportation; dairies; and those who own the actual store.
In this case, we have a local connection to the store.
I had an opportunity to go this morning and was pleasantly surprised.
The store is clean (a new concept for that location); brightly lit; there is no store manager hugging the service desk playing scratch off tickets; the produce is fresh; and the staff courteous and helpful.
A good beginning for this new addition to downtown.