September 20, 2014 - 10:43am
Football Round Up: Week #3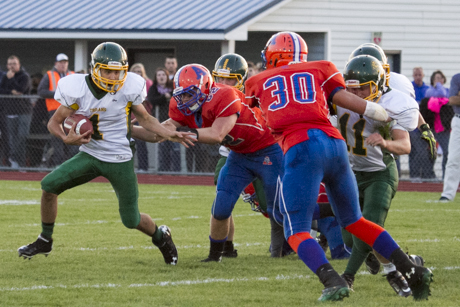 Attica 21, Alexander 9. Alexander played a tough game, but fell to GR rivals Attica, 21-9. The Trojans are now 1-2 on the season and Attica is 3-0. QB Jared Browne was five fo 12 for 113 yards. Samuel Brown was one for two passing for 58 yards and a TD, which was caught by Jacob Riggs. The Trojans were held to 34 yards on the ground on 26 carries. Zack Shilvock made a 45-yard field goal. Ty Laird had seven tackles and Rick Amico, Tristan Aldinger and Riggs all notched six each.
Batavia 41, Hornell 21. The Blue Devils had 350 total yards on the ground. Dominick Mogavero had three touchdowns. 
Photos by Rick Franclemont.