November 22, 2013 - 2:46pm
Former boxer warns student athletes about the dangers of ignoring concussions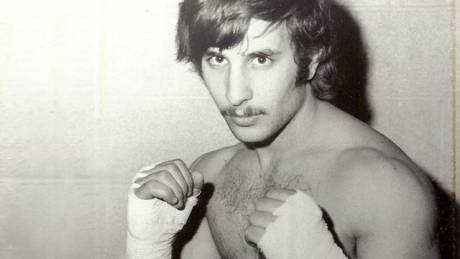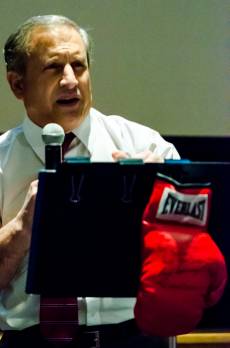 Ray Ciancaglini had the heart of a champion.
At age 16 in 1969, he thought nobody could beat him. He would eventually become, he was sure, the middleweight champion of the world.
He was an honor student. A supurb athlete. A good, kind friend. He was ready to take on the world.
Boxers are supposed to be tough. The old men in the sport told him getting hit in the head was just part of the game. Ignore the headaches, they told him.
"Son, you have to deal with these headaches," one trainer told him. "You have everything it takes to get to the next level of the game. You have to be able to dish it out and take it. If not, then this game isn't for you."
Back in the day, trainers, athletes and even some medical professionals had a poor understanding of concussions. The wisdom of the day was that you weren't really injured, you really didn't suffer a concussion, unless you were knocked out.
Today, we know better.
Concussions have become a hot topic in the sports world at all levels. Earlier in the Fall, PBS's "League of Denial" shined a light on the NFL's apparent disregard for decades of mounting evidence that concussions needed to be taken more seriously.
New research shows high school athletes in all sports -- even cheerleading -- are at some risk of suffering a concussion during competition (fewer concussions are reported in practices). The high risk sports are football, lacrosse and girls soccer.
As Ciancaglini, a member of the Rochester Boxing Hall of Fame, spoke to an auditorium of student athletes and parents at Batavia High School on Thursday night, he said he didn't want to scare anybody, nor did he want to discourage any teen from playing any sport, but he does want to drive home the message: take concussions seriously.
He didn't, he said, and he paid the price.
"Never take for granted the privilege of playing a sport you love," Ciancaglini said. "Make wise decisions. This will be necessary for you to realize your full potential.
"If I had it all to do over again, would still pursue a boxing career?" Ciancaglini added. "Absolutely. I would still compete with the same tenacity and dedication it takes to be a champion. The only thing I would do differently is get immediate medical attention for the injuries my body was telling me I suffered."
Ciancaglini called concussions the invisible injury. There's no cut, no bump, no swelling that shows a trainer, a coach, a fellow player that you've been injured.
But any concussion can have far more devastating consequences. Concussions can lead to permanent brain injury, lifelong physical ailments and even death.
For Ciancaglini, the life-changing event was a bout in Buffalo in 1969. He took a right hook to the back of his head that wrung his bell.
"I didn't go down, but I was dazed," Ciancaglini said. "My vision was blurred. My hearing was impaired. The crowd noise alternated from muffled to loud. I had never experienced this feeling before. I fought through it and won a unanimous decision."
The next day, Ciancaglini had a headache and felt fatigued. He chalked it up to a tough bout.
"I passed it off as being physically run down," Ciancaglini said.
He had a big bout scheduled for the next week in Syracuse. There was no way he was going to miss it. He went right back to training.
The headaches and fatigue persisted, but he ignored the symptoms.
"I should have gotten medical attention, but I just didn't think it was that serious," Ciancaglini said. "Little did I know this was the beginning of my troubles."
Ciancaglini tried to continue his boxing career, even though he didn't feel as sharp as he once did. To compensate for his sense of sluggishness, he boxed less and brawled more. And he kept winning.
As he spoke to coaches and trainers about his falling grades, missed classes, his increased irritability, his peristent headaches, they told him to tough it out.
He was even honored for toughing it out, receiving the Golden Gloves Heart Award.
"My life was falling apart and I thought the symptoms were temporary and would go away," Ciancaglini said. "I thought I could work through it and didn't want to miss my next opportunity. I didn't want to lose my ranking. I thought boxing was my whole life. This is how I was lulled into making some bad decisions."
Finally, he decided to take a break from boxing, but after months away from the sport, he still felt in a constant fog. The headaches wouldn't go away. 
He got a job at Kodak and when his hands started to tremble or he became forgetful, his workers tried to cover for him, even as he spilled chemicals.
Finally, his deteriorating condition was too much of a safety hazard so Kodak sent him to Strong Memorial Hospital for an evaluational.
The diagnosis: permanent brain damage caused by untreated concussions.
Today, Ciancaglini is 62 years old. There hasn't been a day in his life since he was 16 that he hasn't suffered from headaches.
The headaches started with that first concussion in Buffalo, and because he didn't realize he had suffered a concussion, he ignored the symptoms.
His hands shake constantly and he suffers from mild dementia.
All a result of those untreated and ignored concussions.
"I threw away a whole career for the sake of not missing one fight," Ciancaglini said. "What a foolish mistake. I challenged a concussion and I got beat."
The message Ciancaglini wants to sink in with young athletes: If you have the slightest doubt something is wrong, check it out. The game you sit out today could be the career you save tomorrow.
That's why Ciancaglini will show up at just about any high school in the Northeast and speak to students about his experience with concussions, and he does it for free.
For more about Ciancaglini, visit his Web site, "The Second Impact."
The most dangerous concussion, Ciancaglini said, is the mild one. It's the easist to ignore. It's the one peers will tell you to ignore, but if not treated it makes the second concussion much more serious. Any athlete who suffers a concussion should sit it out until all symptoms have disappeared. For a list of symptoms, click here.