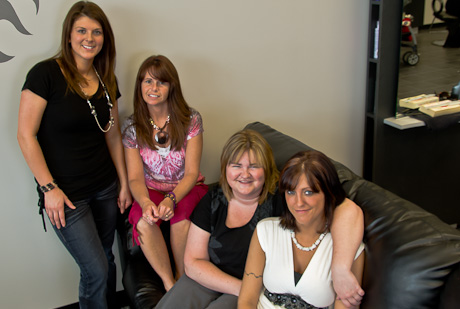 When hair stylist Amanda Lowe, above left, managed a Super Cuts, she said, she was able to double the business of the store and that success got her to thinking -- what could I do if I struck out on my own?
After some time thinking about it, and getting experience in other salons, she recently stopped wondering and started trying.
Last month, she opened Jagged Edge Salon at 4140 Veterans Memorial Drive with her friends Dawn Williams (next to Amanda) and Alisha Foster (right) along with her sister Sarah Lowe (in between Dawn and Alisha).
Combined, the young women have 38 years experience cutting and styling hair. 
Customers are welcome to walk-in or make an appointment for highlights, lowlights, perms, styling/updos, treatments, and facial waxing.
"I like having a salon where the girls and the customers can come in and have fun," Lowe said. "I also just like the responsibility of running my own business."
The grand opening is June 18. Guests who stop in between now and then can enter to win prizes, including free haircuts for a year.
Store hours are 9 a.m. to 7 p.m. Monday through Friday and 9 a.m. to 4 p.m. Saturday.