April 23, 2014 - 1:24pm
GCC students wrapping up preparations for Saturday's 33rd fashion show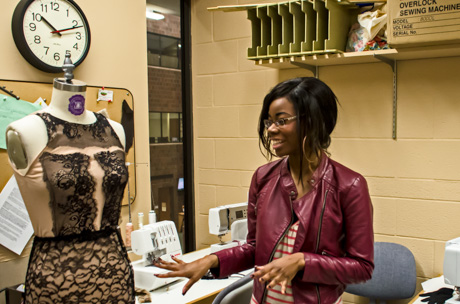 The students in the Genesee Community College Fashion Merchandising and Design Program are excited and nervous about Saturday.
For the 33rd year, the college will host its spring fashion show, which is the culmination -- and final exam -- of the students' efforts to learn about the world of fashion and retail clothing.
Nearly all of the students are planning to move on to the next level of education or start working in the field upon graduation.
The show this year is called "Ethereal" and Professor Rick Dudkowski said there are a record number of designers participating with more than 100 models who will strut down the catwalk.  Show times are 3 p.m. and 7 p.m. and tickets are $7 at the door.
More than 1,400 people are expected to attend the two shows. Dudkowski said GCC's show is the largest fashion show in WNY.
"People who attend our show will see a lot of creativity and originality," Dudkowski said.
Some of the sets include: "Grecian Utopia" -- designed and produced by Catherine Kelkenberg with assistance from Asahi Nakamigawa; "Americana" -- designed and produced by Tyler Annalora and Alaina Shannon; "Revival" -- designed and produced by Natalie Brown; and "Catherine Ivelisse" -- designed and produced by Catherine Morales.
Alania Shannon and Taylor Bunch have put together a set featuring clothes from Gymboree in the Eastview Mall. 
Bunch, the only man in the class, is from Buffalo and was a Finance major at Canius when he decided he wanted to do something more creative with his life. He transferred to GCC specifically for the fashion design program.
He explained that he and Shannon saw the show as being about youth, and youth is about rebellion or breaking the mold. So they wanted to evoke the roots of popular youth rebellion in popular culture, and drew on the inspiration of James Dean and Marilyn Monroe. Bunch's repertoire for men will be bold and bright colors and Kesterke went with neutral tones and soft pinks often associated with Monroe.
NYC clothiers Buffalo David Bitton and Maurices have shipped a new line of fashions that will make their debut at the GCC show in a set produced by Shelby Wallenhorst and Ashley Husted.
The show's 11th and final set is "Ambiance" -- produced by Kelly Wetherby and Lekha Anderson with apparel from M.A. Carr Bridal and Charles Men's Shop. Carr donated $18,000 in top-line wedding gowns, which the designers have reshaped and recolored and reimagined into new dresses.
It takes nearly the whole school to put on the show: students from Criminal Justice studies provide security; the media department records it; the Events and Hospitality program provides support and hosts the after-party; and the Graphics students design posters and other promotional material.
Shelby Wallenhorst is in charge of decorations and Amanda Joyce helped head up the event planning.
For the Fashion and Merchandising students, the show is supposed to bring together all they've learned through the two-year program.
Students graduating this year will go on to further studies in NYC and fashion programs there, or into the fashion program at Buffalo State (which recently invested $63 million in its fashion technology lab), or right into the work world.
Ashley Husted is already a manager at the Maurices store in Batavia. In fact, all five of Maurices locations in WNY are managed by graduates of the GCC program.
"I love working for them," Husted said, and Dudkowski added, "We're very proud of our students who are with Maurices."
Only one of this year's grads is going in a different direction. She's going to major in environmental science at St. Bonaventure.
Top photo: Candace Cooper.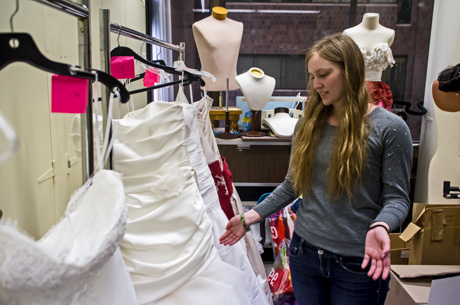 Kelly Wetherby.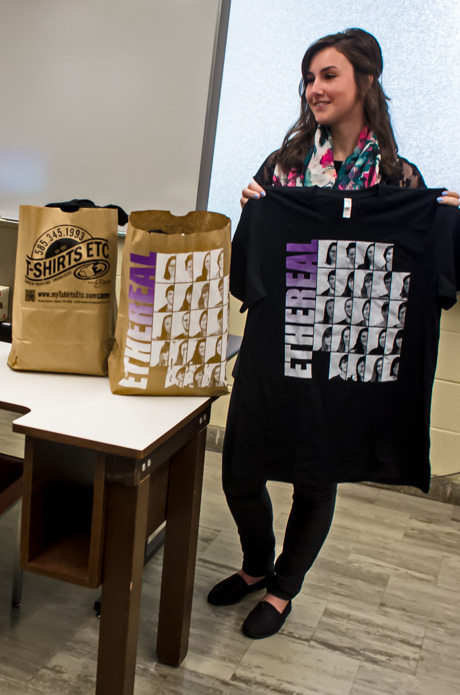 Natalie Brown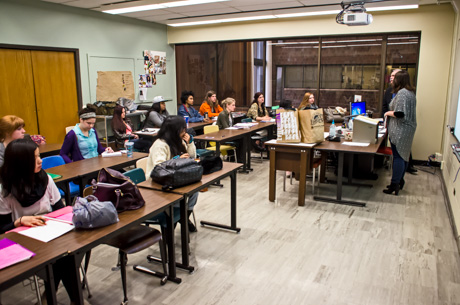 April 23, 2014 - 2:39pm
#1
The guys and gals in both the Fashion and the Hospitality programs do a fantastic job every year! Kudos to their instructors - Rick Dudkowski, Donna Ehrhart and Amy Slusser - for all of their hard work and guidance, as well!