April 1, 2014 - 11:17am
With goal of going paperless, legislators issued iPads
Amid the piles of papers on the glass-topped conference table in the Old Courthouse yesterday were shiny new iPad Airs.
Each member of the Legislature had one and with varying degrees of success were trying to adjust to reading their agenda and background material on the Gorilla Glass screens. Some members found everything they needed on the tablets. Others still sifted through papers.
It's going to be an adjustment, Chairman Ray Cianfrini said, as the Legislature tries to go paperless. The county won't be able to quit paper cold turkey.
"It's new. We're learning," Cianfrini said. "Everything I'm seeing, though, this is going to transform the way we do business and it will save money. I think it's great. I've been advocating for us to go paperless since I first came on the Legislature when I saw how much paper we generate."
According to Cianfrini, the county spends $35,000 a year on printing agendas and back-up material for the nine members of the Legislature. They go through 1,098 cartons of paper a year, printing on more than five million sheets of paper.
The iPads should eventually eliminate all most all of that paper, Cianfrini said.
Newer members of the Legislature such as Greg Torrey, above with Bob Bausch, and Andrew Young, acted a bit as mentors during the Human Service Committee meeting, helping other members learn how to use their new iPads. Young recommended members change a setting so the iPads wouldn't go to sleep after two minutes of not being touched (requiring a new login to see the screen). Torrey showed Bausch how to access something on the iPad.
"We have an excellent working group," Young said. "From a personal perspective, this is all new to me over the last three months and I've had more than my share of help, so if I can help somebody change the time on their iPad, it's a bit of a payback."
Bausch said there is a learning curve and adjustment, but he also thinks the switch is necessary.
"We don't have any choice," Bausch said. "We have to go this direction just because of the amount of paper we push every week. There's just some fine-tuning to work on managing it."
The one concern Bausch has is the perception of speakers during committee meetings. Will they still feel Legislators are paying attention to them when they've all got computers open in front of them?
"It's one thing when you've got a pile and you glance down and glance back up," Bausch said. "It's a different perception than when you're looking at a computer screen. For our regular visitors who come in only once or twice a year I want to make sure they feel comfortable and make sure we don't look like a bunch of geeks sitting there messing with our computers."
Cianfrini shares that concern and said it's one of the things Legislators will need to learn to manage.
"Remember, this is all new to us," Cianfrini said. "We're just learning as we go. I'm just waiting for the time I can say, 'we made it. We're paperless.' "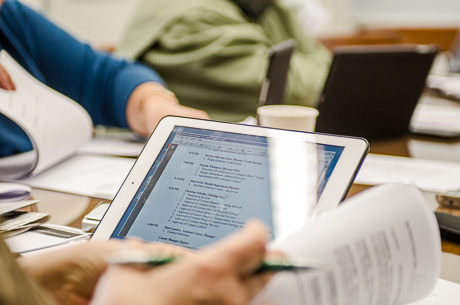 April 1, 2014 - 11:57am
#3
Most of the time, having something on the screen is good enough. In my mind, sometimes you really want a hard copy, especially for the most important documents that you really need to dig into.