June 18, 2014 - 10:22am
Hawleys give Rotary members a sneak peek at new malt house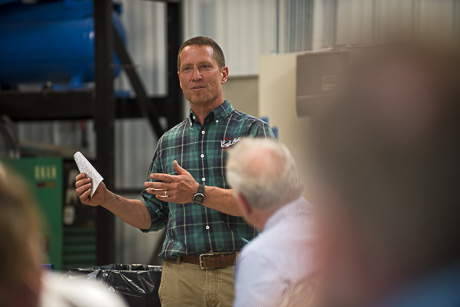 Ted and Patty Hawley have been working for three years to open a malting house in Batavia. The process is almost done, and Tuesday, the Hawleys provided a tour of their new facility on their farm on Bank Street Road to members of the Batavia Rotary Club.
Ted Hawley spoke for about 20 minutes about the history of malting and beer brewing in New York, why he decided to get into malting and how the process works.
Rotary members were able to sample the taste of about a half dozen different barley grains.
At one time, New York was number one in barley and hops, but the emergence of better growing areas and prohibition killed the industries in the state.
In Batavia, decades ago, there was a malt house off Elm Street owned by Charles Fisher, and Genesee Brewery made malt in a facility on Lyons Street.
Even though there are no commercial breweries in Genesee County now, microbreweries are popping up all over the state, even in WNY.  The growing demand for malt is what got the Hawleys interested in starting their own operation. 
Once the new malt house is fully up and running, Hawley said there's already enough demand from microbreweries in WNY that he doubts any of his malt will be sold to downstate markets.
Before a resurgence in microbreweries in New York (there are now 128), it had been generations since malting barley was grown locally.  
It's a challenge to grow in New York because of moist air. Fungus can wipe out whole crops and at harvest time, there's a short window of opportunity to combine the stocks before the grain starts to germinate.  
Last year, the Hawley's lost 40 acres of grain because of a day or two of rain right when the barley should have been harvested.
Hawley said the grain looked good in the field. It looked good after the straw was cut and the grain was brought to the malt house, but when he did a pre-germination test, he found that at a microscopic level, it had already germinated, killing all of the enzymes. 
Some of that barley went to area distilleries, which can still use barley at that stage, but most of it became livestock feed.
In order to grow enough barley for his three-tons-a-day malting operation, Hawley needs to partner with local farms to grow his barley (and Hawley is still running experiments with Cornell Cooperative Extension to find the right variety of barley to grow locally -- a four to five year process).
It can be daunting to introduce the idea to a farmer who has no experience with malt varieties of barely (which are higher in enzymes and lower in protein than feed barely).
"It's a real challenge to grow it," Hawley said. "When I talk with a farmer about growing it for me, it's hard not to deter them."
To grow it, a farmer must use about half as much nitrate fertilizer as he would for feed or wheat. There's a limited five-day window to spray for fungus, which if missed means the crop is lost. And at harvest, the combine must be run at about half speed so the grain heads aren't scabbed.
For all that, Hawley said, it's still a worthwhile crop for the right farmers.
"It's a very good gamble," Hawley said. "I'll pay them twice what it's worth as feed. It could be very lucrative to somebody who takes good care of the crop."
Previously: