December 14, 2011 - 9:49pm
High Voltage offering tattoos and piercings Friday to help raise money for local charity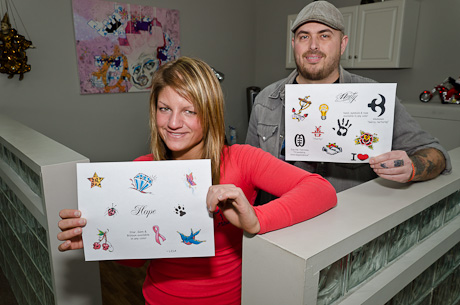 Friday is your chance to get inked and support a local charity.
High Voltage Tattoo & Piercing, 110 W. Main St., Batavia, will tattoo or pierce anybody who shows up at the door from 10 a.m. until there's nobody left to tattoo or pierce, and donate all of the proceeds to Community Action of Orleans and Genesee.
Tattoos are $25 and piercings are $15, with 100 percent of the fees going to Community Action.
Above, Lisa Vokes, a tattoo artist, and Mark Fanara, tattoo artist and owner, with a examples of the tattoos they will apply Friday for $25 each.
Tattoo artist Kevin Lockwood, not available today for a picture, will also have a series of tats available for people to choose.
All proceeds from jewelry and aftercare product sales will also be donated.
Free refreshments will be provided by Southside Deli, Michelle's Catering Co. & Bakery and High Voltage Tattoo.
Community action helps people from preschoolers to the elderly and those in between with a variety of services.
"Our community has treated us well and we would like to return the favor," Fanara said. "We hope people will stop in to help us raise money to help people and change lives."
December 15, 2011 - 7:35am
#2
This is awesome , and High Voltage is by far the cleanest ,most professional,and has the best art work from the best tattoo artists in the area . If you have never been there , do yourself a favor and treat yourself to tat for a good cause .